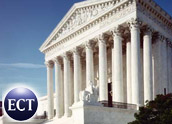 Retired Supreme Court Justice Sandra Day O'Connor has a new day job: game developer. The former justice's latest pursuit came to light during her keynote address Wednesday at the Games for Change Conference held at Parsons The New School For Design in New York.
Designed for seventh-, eighth- and ninth-graders, "Our Courts" will be an online interactive civic education project that will educate students and prepare them to participate in American representative democracy. It's scheduled to launch in September for teachers and a year later for general use.
With the game, O'Connor, developers and educators involved in the project hope to teach civic lessons on government and the judiciary in a way that's engaging, relevant and thought-provoking.
The Game of Civics
The creators of the game express concern that teens lack understanding of many of America's most important civic institutions.
"The evidence is clear — and should be profoundly disturbing that in this country we are failing to teach today's students some of the information and skills they need to be responsible citizens," O'Connor said in a welcome address on the "Our Courts" Web site.
Under development in conjunction with Georgetown Law and Arizona State University since June 2007, "Our Courts" will introduce a new pedagogic approach created specifically for the "digital" generation, according to the game's Web site. It will incorporate an interactive Web-based component featuring avatars that educators and students can use to learn about and discuss important issues of the day.
Massively Multiplayer Online Government Games?
When it launches, "Our Courts" will be among the first massively multiplayer online game (MMOG) with an educational spin. The success of the venture, according to Mike Goodman, a Yankee Group analyst, will depend on the game maker's ability to create an environment that is engaging for students.
"MMOG are the new thing these days. [Success] depends on what your aspirations are. If your aspirations are to compete against 'World of Warcraft,' then you might want to rethink the concept. But if it's an educational tool and [they're] marketing it to teachers and schools, you've changed the dynamics of the marketplace," he told TechNewsWorld.
The concept is interesting, Goodman said. As PC-based games such as "Where in the World is Carmen Sandiego?" — one of the most successful "edutainment" titles of all time — showed that if a game satisfies basic game principles by being fun and engaging, then it can be successful.
"It's a game — a game that's trying to educate — but it's still a game," he said.