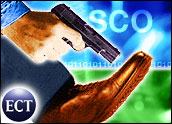 By responding to IBM counterclaims against it and arguing that the General Public License (GPL) that covers Linux is not enforceable and in fact violates the U.S. Constitution, Lindon, Utah-based SCO has put itself in a tough position, intellectual property and software lawyers told TechNewsWorld.
In its response, SCO argued that the GPL is "selectively enforced" by the Free Software Foundation, meaning enforcement of the Linux license is not permitted by others, such as IBM, and that the GPL therefore violates the U.S. Constitution as well as copyright, antitrust and export control laws.
Jeff Berkowitz, a partner at intellectual law firm Finnegan Henderson, told TechNewsWorld that SCO's response, which is somewhat unprecedented, shows that the two sides in the dispute are digging in their heels.
"This is the kitchen-sink kind of response," Berkowitz said of SCO's court filing. "This is dumping everything with the kitchen sink. This is throw everything at the wall and see what sticks."
Unenforceable, Unconstitutional
Since suing IBM in March over allegations that the company put SCO Unix source code into Linux, SCO has been countersued by both IBM and Linux distributor Red Hat.
In response to IBM's claims that SCO was in violation of its own copyright restrictions, SCO argued that the GPL is unenforceable and void, barring IBM's claims.
SCO went on to argue that the GPL violates the U.S. Constitution, copyright, antitrust and other laws, again barring IBM's claims.
Strange Stretch
Berkowitz, who said he has never seen a claim that prosecution of a license is somehow unconstitutional, indicated SCO might argue that by violating copyright law, the GPL for Linux violates the Constitution, which forms the basis for copyright law.
While he stopped short of calling SCO's arguments inappropriate, Berkowitz indicated that the software company could be overreaching with some of its positions.
"I'm sure they did sufficient research to raise those defenses — they're not woefully inappropriate," he said. "But some of them appear to be a stretch. It's just unusual to see these sorts of defenses under the facts in this case."
Infringement Inconsistency
Phil Albert, a software legal expert and partner with Townsend and Townsend and Crew, called SCO's unconstitutional claims "weird," telling TechNewsWorld that it will be tough for SCO to argue that the GPL is not valid.
Consistent with the Free Software Foundation's contentions that SCO is also in violation of copyright for its own distribution of Linux under the GPL if the license is not valid, Albert said SCO is "shooting [itself] in the foot" with its response to IBM's counterclaims.
"For SCO to say 'We're in possession, but the license is not valid and is unconstitutional' — that leaves them in the position of copyright infringer," Albert said. "That's kind of the inconsistency."
GPL to the Test
Albert added that although a previous case involving MySQL dealt with some GPL issues, the SCO-IBM matter is the first time the license for Linux and other open-source software has been contemplated in court.
"That never quite got to the point of defining whether the terms of the GPL are allowable or enforceable," he said.
Berkowitz, who said IBM likely will motion to test SCO's arguments, added that the case certainly will have significant ramifications for the licensing of open-source software.
"There is software out there, the basis of which is open-source code, that's licensed through the GPL and limited GPL," Berkowitz said. "This is a very significant case to test the license."