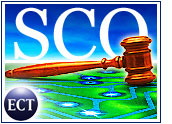 The list of lawsuits involving SCO Group grew longer this week as the company sued AutoZone for its use of the Linux operating system and DaimlerChrysler for alleged violations of its Unix software agreement with SCO.
In suing car-parts store AutoZone, SCO made good on its threat to sue Linux users that refused to buy a SCO license to use Linux. The company contends it owns source code that is part of the open-source operating system.
The move to sue DaimlerChrysler comes as SCO seeks to stake out a new class of Linux users accused of having improperly used SCO Unix code in developing, growing or contributing to Linux, SCO president and CEO Darl McBride said.
"These are not two users we randomly picked," McBride said in a conference call. "They're basically at the head of two classes we feel are violating our contract agreements and intellectual property rights."
Aiming at End Users
The SCO-offered license, which has been derided and ridiculed by several analysts and open-source software advocates, would have prevented the lawsuit filed in U.S. District Court in Nevada. SCO said the suit seeks injunctive relief against AutoZone's further use or copying of any part of SCO's copyrighted materials and also requests damages — an amount to be proved at trial — as a result of AutoZone's infringement.
SCO is involved in a billion-dollar contract dispute with IBM that is at the heart of SCO's claim that its own Unix System V source code was improperly used in Linux. The Utah-based software company, which has been accused of running a business model based on litigation, is also involved in a copyright dispute with Novell and is the defendant in a countersuit filed by Linux vendor Red Hat.
However, the latest suit against AutoZone stands out, as it represents the first time a company is being sued for running the Linux operating system on its servers and in its data center.
"This is a different kind of lawsuit," Harvard Research Group vice president of Linux strategy Bill Claybrook told TechNewsWorld. "It will be the first time they are going after a real end user."
Licensing Linux
SCO, which also reported a quarterly loss of 16 cents per share, announced its suit against AutoZone after disclosing that Houston, Texas-based hosting provider Everyones Internet purchased the SCO license for Linux.
Claybrook — who has criticized the SCO Linux license in the past, saying it is unnecessary because the company's claims have yet to be verified or upheld in court — speculated that EV1, among the top hosting companies, had a large number of Linux servers and wanted to head off trouble. "Perhaps management got tired of thinking about it," the analyst added.
"I'm sure that SCO gave them a very, very good deal on this just to get a licensee signed up," Claybrook said. "But it brings up the management of that company. To pay for a license for software from a company that hasn't been established to own it is probably pretty crazy."
McBride said EV1 was one of several companies so far that made a business decision to eliminate "the SCO IP risk" for its own business and customers.
Linux Accusations
SCO signaled it would file suit against a well-known company more than three months ago. In taking AutoZone to court, the company alleges AutoZone violated SCO's Unix copyrights by running "…versions of the Linux operating system that contain code, structure, sequence and/or organization from SCO's proprietary Unix System V code in violation of SCO's copyrights."
McBride indicated that AutoZone and DaimlerChrysler were chosen from among several users that SCO contacted, warned and was in talks with prior to the lawsuits. He also signaled there will be more suits to come.
"This is something that is general — anybody using the Linux operating system," he said of the AutoZone suit.
Unix Rights, Linux Sites
With the announcement that it is filing suit in Detroit against DaimlerChrysler, SCO said that although the DaimlerChrysler lawsuit is a contract-based issue, the case differs from SCO's original contract suit against IBM.
The company said it is seeking: an order outlining DaimlerChrysler agreement violations based on refusal to provide compliance certification; an order preventing further violations; an injunction for remedy of the alleged violations; and damages to be determined.
"DaimlerChrysler was one of a number of companies that didn't respond when, last December, we sent out our requests [for contract certification] of Unix licensees," McBride said. "We had talks with them but did not get a response. That put them at the top of the list."
Self Guilt?
Likening his company's crusade to that of the Recording Industry Association of America, which has sued hundreds of individuals over alleged music copyright infringement, McBride said SCO will continue with end-user lawsuits and negotiations regarding intellectual-property licenses.
While he conceded that anything can happen when the cases go to court — the IBM case is set to begin April 11th — Claybrook said he does not think SCO can succeed with its lawsuits.
"I don't think they'll win everything, if they win anything," Claybrook said. "They've been thoroughly involved in [using Linux] for several years. If code was copied, I'm sure they did their share of it."
Resisting the Pressure
Jeff Berkowitz, a partner with intellectual-property law firm Finnegan-Henderson, told TechNewsWorld that the suits amount to SCO's efforts to convince Linux users and sellers that they need its licenses.
"They have few options available to put pressure on Linux distributors right now," Berkowitz said.
The attorney said companies are unlikely to take SCO up on the licenses while the issue of ownership is under intense debate.
"It's hard for me to say any company [should buy a license now], but if you're going to get what they perceive as a sweetheart deal, they might," Berkowitz said. "But I'd like to know the compelling reason to buy now, given that there's a significant challenge to their ownership. I just don't see it to be honest. What's the compelling reason to spend my company's money?"