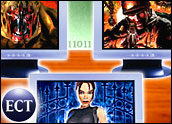 It's easy to see how some gamers end up spending so much money on accessories when you add up all the special controllers, high-powered headsets, memory upgrades and multiplayer network subscriptions that players use to enhance the experience.
"Through the years, gamers have demonstrated a willingness to purchase items that enhance the gaming experience," said David Cole, an industry analyst with market research firm DFC Intelligence.
Companies such as Empower Technologies, HotSeat, Monsta and The Ultimate Game Chair want to add one more item to that list: gaming chairs.
Complete Gaming Experience
Compatible with most gaming consoles, the chairs offer a range of exotic features.
"There is a variety of chairs available designed to meet the needs of different gamers," said Rob Enderle, president of market research firm the Enderle Group.
The chairs touch upon many of the senses. Some include special effect lighting to enhance a game's sense of realism. 3-D stereo speakers and special audio jacks maximize sounds through home theater systems, so an explosion seems lifelike while headphone jacks keep things quiet when one plays at night or in the early morning.
The chairs are also designed to ease the stress on hands, wrists, necks, and backs that comes from spending hours and hours trying to top a high score in "Flight Simulator," "Grand Theft Auto," or "Madden Football." Some chairs include reclining features that relieve stress from various parts of the body.
High-End Features
On the high end, multiple massage settings soothe players' tired muscles, and vibration functions provide gamers with authentic feelings as they maneuver or destroy. The Ultimate Game Chair offers an ancillary ottoman so players can put their legs up.
The devices are also equipped with connections for external devices, such as steering wheels and fancy shooters. For players who wish to keep their gaming areas neat, certain chairs include pull-out compartments for easy storage of games. For the sloppy player, chairs are made with stain-resistant fabrics. For the lazy player, some products feature beverage and remote control holders, so they may never need to get up again.
The new products illustrate gaming's ever-widening appeal. DFC Intelligence estimates that there are 163 million gamers worldwide, so vendors are vying to persuade middle-aged businessmen as well teens to buy their wares.
The HotSeat Solo includes Dolby 5.1 surround sound, a cup holder, and a sliding frame that feels like the cockpit of a race car. Empower's PowerPlay Pro Media Chair touts its realistic surround sound system. Monsta's Pyramat has a Yoga-mat-inspired fold-out lounger that is comfy and easily stored. Monsta designed a range of chairs starting at US$199 and reaching $895.
Nothing off Limits
The manufacturers are racing to deliver the most appealing chair. "I've heard that vendors are incorporating scent machines into the chairs, so the players get the feeling that they really are in the game's locale," said Michael Cai, director of broadband and gaming at market research firm Parks Associates.
Designing the right type of chair is one of many challenges the vendors must overcome. In some cases, the handgrips where the two controller handles are placed are flexible, making players instinctively try to move them to improve their play; however, the flexibility is only there to make the chair more comfortable, and all input needs to be done through the actual controllers.
In addition, while the chairs can indeed be used by gamers, the vibration options and extra functions need to be enabled on specific PC drivers, and the actual experience depends on each game's compatibility with the driver settings.
How Much?
Price is another concern.
"Initially, gamers asked for 1,001 items in the chairs, and then said they did not want to spend a lot of money for them," said Enderle. "In trying to meet those conflicting wishes, chair manufacturers sacrificed products' quality for feature quantity."
Gamers now find chairs with a wide range of prices, starting at a few hundred dollars for barebones models and racing past the $1,000 mark for the more elaborate chairs.
The chairs usually require some assembly. While the process typically is not terribly difficult, it usually takes about 20 minutes to put all of the pieces together. The hardest part can be attaching speakers and special cabling to the chair.
On the business side, distribution is a challenge. Furniture departments usually do not have any experience with gaming, and gaming departments are not equipped to sell chairs. To circumvent that problem, some vendors are promoting their chairs as home entertainment enhancements, an area of growing interest, rather than gaming add-ons.
The market for these chairs is at an early stage of development. Whether the chairs will become a commonly used amenity or an anomaly among gamers will be determined in the next 12 to 18 months.