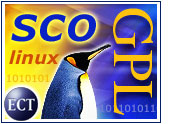 SGI, the latest distributor of Linux under fire from SCO Group and its source-code claims, has met SCO's threat to pull SGI's license for Irix by removing portions of the code in question and counterclaiming that SCO's position is "absurd."
Mountain View, California-based SGI's vice president of software, Rich Altmaier, wrote in the "Letter to the Linux Community" that his company has carried out a "rigorous internal process to ensure that all software contributed by SGI represents code we are legally entitled to release as open source."
Still, SGI did remove three "code fragments" — 200 lines out of the total 1 million lines of SCO's alleged contributions to Linux — and indicated it is on a mission to find and remove all code that "may arguably be related to Unix code," Altmaier's letter said.
Not Making Sense
Analysts said that while SCO might view removal of any code as a validation of its intellectual property claims, the Lindon, Utah-based company still will have to prove that its Unix System V source code was the source of any contributions to Linux. Meanwhile, said analysts, the company is making more enemies along the way.
"If they continue doing things like this until the lawsuit goes to court in 2005, they will have everybody not liking them," Aberdeen Group research director Bill Claybrook told TechNewsWorld. "There won't be anyone left that doesn't hate them."
SCO, which claims the Linux operating system has line-by-line portions copied from its own Unix System V source code, focused its SGI claims on the extensible file system (XFS).
In the letter, Altmaier wrote that SCO's contentions — which mirror intellectual property rights claims that were the basis for pulling IBM's license for AIX and subsequently suing Big Blue for US$3 billion — are "completely misplaced." He stressed SGI's rights to contribute to open-source software and to license whomever it chooses.
"It may be that SCO is taking the position that merely because XFS is also distributed along with Irix it is somehow subject to the System V license," the letter said. "But if so, this is an absurd position with no basis either in the license or in common sense."
Matching Code Removed
SGI did, however, find "brief fragments of code" matching System V code in three generic routines of the input-output infrastructure support of SGI's platform. The code, which SGI called "redundant from the start," was replaced.
"We removed the code fragments because their inclusion had been inadvertent," SGI said in an e-mail response to TechNewsWorld. "We believe we have already identified the handful of code fragments and have removed them."
SGI also downplayed the impact of the inadvertent inclusion of code: "The position we have characterized as absurd is SCO's position that this handful of code fragments could cause them any harm or form the basis for a license termination."
Minimizing Misplacement
SCO spokesperson Blake Stowell told TechNewsWorld that his company is "kind of mixed" on SGI's action and letter.
"While it's good of them to make an effort to try and remove code which may have been misappropriated into Linux, they also minimize the code having gone into Linux," Stowell said.
He indicated SCO has not made a decision about whether or not to terminate SGI's license, but said SCO is concerned with the "millions of servers out there using that code."
Referring to penalties for contributing code they shouldn't have, Stowell added that it is still up to SGI to "cure the breaches" it caused before a SCO deadline of October 14th.
SCO's Bad Blood
Yankee Group senior analyst Laura DiDio told TechNewsWorld that SCO's fate lies in its courtroom success. The company is suing IBM and is defending itself against countersuits by Big Blue and Linux distributor Red Hat.
DiDio, who said SCO likely did all it could to avoid confrontation with SGI, echoed Claybrook's points about negative sentiment against SCO as a result of its intellectual property claims.
"In order for SCO to thrive, they've got to sell a product," she said, referring to SCO's current focus on its IP. "Certain organizations may not want to do business with them because they caused a conundrum here that the industry probably didn't need."