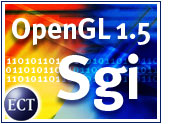 Enhancements to the OpenGL graphics application programming interface (API) will mean faster rendering and more realistic graphics in conjunction with the latest graphics hardware, according to SGI, which unveiled the OpenGL 1.5 specification Monday.
SGI and the OpenGL Architecture Review Board (ARB) said the update includes the new OpenGL Shading Language, which will enable graphics cards from any vendor on any platform to use the language. "OpenGL 1.5 and the OpenGL Shading Language in particular, does for the next generation of graphics what OpenGL did for the first generation in the early 1990s," said Shawn Underwood of the Visual Systems Group at SGI. "It will fundamentally change the industry."
Mercury Research president Dean McCarron told TechNewsWorld that the new specification and shading language bring new capabilities to the OpenGL API that will keep it competitive with Microsoft's DirectX graphics interface. "The OpenGL guys are revising the spec to capture new capabilities, primarily in programmable rendering pipes," said McCarron. "That keep Open GL 1.5 competitive with DirectX."
Real-Time Rendering
While 3D modeling and other kinds of advanced graphics design formerly required offline rendering, the OpenGL 1.5 update will allow developers to write shader applications in real-time, Nvidia director of software marketing Ujbsh Besai told TechNewsWorld.
"It really accelerates the entire design process," Besai said.
Nvidia contributed to development of the OpenGL 1.5 specification mostly through the company's reference compiler. Nvidia is promoting the idea of graphics flexibility and programmability, technologies designed to make it easier to do high-level graphics design.
"With the addition of an innovative shading language, software developers now have high-level access to the programmable features of modern [graphics processing units]," said Kurt Akeley, 3D graphics architect at Nvidia. "We are excited to be a part of this revolution in the cinematic quality of real-time 3D graphics."
Realistic Result
Mercury's McCarron said applications that take advantage of the new OpenGL 1.5 rendering capabilities will deliver more realistic images, including fur, which is a type of surface that previously could not be rendered realistically.
McCarron said the new OpenGL 1.5 standard will bring the graphics language up to par with DirectX, the graphics API used in a majority of video games in the industry. The new capabilities also will mean more realism in workstation graphics, where OpenGL is widely used, McCarron said.
"Basically, [OpenGL 1.5] gives you a big upgrade in the realism of the images that are getting rendered," he said. "For engineering and CAD, it means more realistic models."
Keeping Up with Hardware
Mercury's McCarron said there is a whole crop of new hardware coming out that includes the graphics power required to support new 3D-rendering capabilities. On this new hardware, programs are run on the graphics chip rather than on the processor. They will produce more realistic surfaces and textures, he noted.
"This is a significant improvement with that capability in OpenGL," he said. "This is going to be a welcome addition to programmers who use OpenGL."
The new, high-level shading capabilities are being demonstrated this week at the Siggraph conference in San Diego, California. However, McCarron said, programs that significantly draw on the new capabilities are not likely to go mainstream until next year.
Partnerships Abound
SGI also announced a deal with Sun Microsystems on the development of Java bindings to the OpenGL API. SGI and Sun said the development will enable millions of Java users to use OpenGL for graphics. The goal of the partnership is to help OpenGL developers write applications that can easily migrate to a Java environment.
In addition to Sun, SGI has partnered with several other companies for OpenGL specification development. The OpenGL ARB itself consists of 12 voting members: 3Dlabs, Apple, ATI, Dell, Evans & Sutherland, Hewlett-Packard, IBM, Intel, Matrox Graphics, Nvidia, Sun Microsystems and SGI.
Other ARB participants include Discreet, Id Software, NEC, Quantum 3D, SONICblue and the University of Central Florida. In addition to the voting members and participants, OpenGL is widely licensed throughout the graphics hardware developer community.