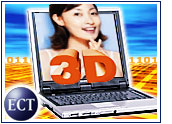 Japanese electronics giant Sharp is now selling its 3D-viewable Actius RD3D notebook computer capable of delivering three-dimensional images on its 15-inch screen — without special glasses or additional software.
The notebook, on sale for US$3,299, is the first 3D LCD laptop on the market. While the RD3D is shipping without a substantial amount of 3D applications available for it yet, analysts said industries that depend on graphical representation — such as computer-assisted design, medical imaging, drug research and others — might embrace the notebook, which most analysts consider to be far too expensive for the mainstream consumer market.
Analysts also said they view the high-end gaming market as another possible niche for the RD3D, which ships with 3D multimedia content and can switch between 2D and 3D viewing at the touch of a button. Popular games, such as Half Life and Quake, already come in 3D versions that will take advantage of the Actius display capabilities.
"As it stands right now, there's probably not that many applications using 3D," Mercury Research president Dean McCarron told TechNewsWorld. "There is already quite a bit of 3D software for games, though."
Third Dimension's Debut
Analysts agreed it is too soon to tell how successful the notebook will be, but most pointed out that the RD3D likely will have limited acceptance because of its relatively high price tag. Still, Sharp's notebook does represent a first with its 3D features.
IDC analyst Alan Promisel told TechNewsWorld the Actius might benefit from the market momentum of high-end notebooks, but that depends on the level of development spurred by the 3D technology.
McCarron, who referred to the lack of "true 3D" applications and the notebook's price, said the Actius will be "an expensive conventional notebook," at least at first.
Business and Science Aim
Sharp, which bills the Actius as "the world's first desktop replacement notebook with 3D screen," said the machine initially will be targeted toward business and scientific applications, such as CAD, medical imaging, mapping, advertising, broadcasting and electronic books.
The notebook — which features a 2.8-GHz Intel Pentium 4 processor, 512 MB of DDR SDRAM memory, 60-GB hard drive, DVD drive and Nvidia GeForce 4 440 graphics chipset — comes with Windows XP Professional and 3D movie player, photo viewer and visualizer software from the Dynamic Digital Depth (DDD) group.
Calling the notebook a milestone in developing mass markets for 3D, DDD chief executive Chris Yewdall said his company already has received orders for the 3D notebook.
Getting into Games
Beyond business uses and scientific research, Promisel said that while he does not expect a deluge of 3D application development, the notebook might find acceptance in the gaming sector, which has contributed to market gains for high-end notebooks.
McCarron agreed an avalanche of 3D games is unlikely, but he said the arrival of 3D might trigger an adjustment in the gaming industry. "My sense is, some games will be developed around it, and it will probably serve as a way to enhance games," he noted. "In the future, it may become more common."
The 10-pound notebook ships with 3D sampling software and content that includes 3D movie trailers — "3D Mania Encounter in the Third Dimension," "SOS Planet," "Alien Adventure" and "Haunted Castle." The feature-length versions of the 3D titles are also available for purchase, DDD said.
Analysts said the notebook is more likely to succeed in Japan, where it was first released and where consumers are more accepting of both mobile and entertainment-computing products.
"In Japan, they tend to be more early adopters and more tech conscious," McCarron said. "I suspect its reception will be typical for Japan and it will be well received. In the United States, merely because of price, volume will be relatively low."