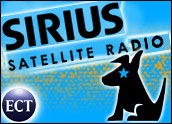 Sirius Satellite has announced a new portable player, touted as a wearable satellite radio that allows users to capture and store Sirius content as well as MP3 and WMA files.
The company — which beams songs, talk and more via its satellite radio service — said the Sirius S50 device was scheduled to be available in stores for US$350 in October.
However, the company was somewhat scant on details, including the storage media or capacity of the player, which analysts said was also priced perhaps too high for most consumers considering an iPod-type device.
Nevertheless, Sirius is looking to get a jump on its satellite radio competition — mainly XM — and leverage the increasing popularity of the medium, which typically features a wide variety of ad-free content for a subscription.
Small Satellite to Go
Sirius said its S50 device — a 1.9-inch wide, 3.9-inch long, 0.7-inch-thick portable player — would provide satellite programming and channels along with the ability to store content in a variety of formats. The company hailed the S50's voice-assisted navigation that tells users what channel they're on and a "Sirius Media Dial" for control. The device package will include a car kit, 6-hour rechargeable battery, ear buds, belt clip, armband, USB cable for PC connection and AC adapter.
While Sirius did not indicate whether the device would use flash memory, hard disk or other storage technology, it will also offer a home dock that includes audio mixing for PC sound pass-through, speaker connections, remote control and home antenna.
Signal Unclear
Gartner research vice president Van Baker told TechNewsWorld the S50 is a play to capture the Sirius subscribers who want to take their satellite content with them. In addition to the satellite programming capabilities, the device features "Scheduled record," which allows users to set the radio to capture favorite shows, similar to a digital video recorder (DVR).
"The appeal is the portability, the time shifting aspect and the added capability to listen to both the Sirius content and their MP3 collections," Baker said.
However, the analyst questioned the lack of detail from Sirius on the technology to store the content, and said the price of the S50 "sounds expensive."
Signal Unclear
Although he could not answer questions about the S50 player's storage technology, Sirius spokesperson Jim Collins told TechNewsWorld the device will be able carry about 1 gigabyte of content, whether it is satellite programming or MP3 music files from a PC.
Referring to similar efforts from rival XM — which has also signaled a new, portable player in the works with Samsung — Collins said the device was aimed at both existing and new Sirius subscribers.
"At that price point, it's difficult to anticipate what the market will do," he said.
Although it is capable of playing live satellite broadcasts when connected to car or home docks, the device cannot receive the signal on its own. However, Collins stressed the "cool factor" for the S50, indicating its small size and accessories were a response to consumer interest in a portable satellite player.
"The car dock is small, the home dock is very sexy, and it breaks down to an iPod type of device," he said.