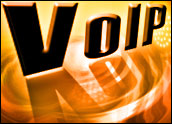 Old school business meets new school technology in the partnership of corporate speakerphone giant Polycom and Voice over Internet Protocol provider Skype, which has produced a portable speakerphone featuring high-quality voice communication and audio functionality.
The Polycom Communicator will complement eBay -owned Skype's latest business VoIP software for a high-fidelity, wideband voice communication device aimed at corporate individuals or small groups, the companies said.
The partnership and product represent both an evolution of VoIP technology and a sign of things to come as more businesses move to VoIP alternatives and equipment.
"I think it shows the maturity of VoIP and IP telephony," Yankee Group Senior Analyst Zeus Kerravala told TechNewsWorld. "It's certainly a lot more mainstream than it was before. It's becoming a lot more credible as an enterprise alternative."
High-Quality, Hands Free
Polycom, a leading supplier of corporate speakerphones, and Skype, which reportedly earns a third of its business in the enterprise, touted the new Polycom Communicator and its features in a joint announcement this week.
The handheld device, about the size of a PDA, delivers high-fidelity wideband audio, hands-free operation and function buttons for volume, muting and taking calls. The device is scheduled to be available worldwide within two months and will sell for US$129.
"Skype's unique offering, broad global user base, and growing adoption within business environments [are] a natural fit for Polycom's leading communications and collaboration solutions," said Polycom Chairman and CEO Robert Hagerty.
Freedom of VoIP
Enterprises are interested in using VoIP from companies such as Skype and Vonage not only for cost savings, but also for flexibility, as the technology offering separates service from network, according to Kerravala.
"The ability to de-couple the service from the network opens the door to a lot of possibilities," he said.
In addition, telecommunications companies are laying the groundwork, with technology such as packet optimization, to make the VoIP solutions work even better, Kerravala added.
"That provides an opportunity for service providers to come forward," he said.
Back to Business
To date, most of the VoIP devices, peripherals and add-ons have been targeted at consumers, Gartner Vice President David Willis told TechNewsWorld.
"It hasn't really gone legit in the enterprise yet," he said.
Still, the Polycom-Skype deal may help address vendor support, reliability and security-related apprehension over VoIP, and it does give more credibility to Skype, Willis added.
"Polycom is already present in every conference room," he said. "This does lend additional legitimacy to Skype."