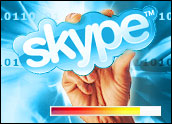 RadioShack may be more associated with remote controlled toy cars than cutting edge technology, but a deal with voice over Internet protocol (VoIP) provider Skype puts the retailer at the forefront of the Internet-based voice technology's move to mainstream.
RadioShack said it will sell Skype hardware and software, previously available only online, at 3,500 of its retail stores, making the electronics store the first U.S. retailer offering Skype's Net phone service.
Analysts indicated the deal is a boost for Skype, and for VoIP, which is an increasingly interesting and crowded market.
"It's already a competitive market and it's getting more competitive as we speak," Ovum Vice President Roger Entner told TechNewsWorld. "Now, you have the first movers, extremely cost-conscious or feature-loving customers, and the quality is there. Now it's how to get the complacent people."
Making VoIP Moves
Coming off its announced partnership with Motorola for Bluetooth enabled headsets for its VoIP Internet calling, Skype said its PC-to-PC calling and premium services that extend to landline and mobile phones will be available with equipment and software available at RadioShack.
The retailer will offer Skype equipment including: the Motorola Bluetooth headset and Internet Calling Kit for about US$100; a Linksys cordless kit for $129; Logitech USB headset for $40; VoIP Voice Cyberphone for $40, and Skype starter packs priced at $4.99 until Christmas.
"RadioShack is known for helping make the market for new technologies, and by all indicators Skype is poised to resonate with U.S. customers after experiencing huge success overseas," said a statement from RadioShack Senior Vice President and Chief Merchandising Officer Jim Hamilton.
Score for Skype
Ovum's Entner said the deal gives Skype a lot more distribution and allows casual RadioShack customers, not just those willing to find and download software, the ability to "see this shiny box," as the analyst put it.
"It has the chance to multiply how many customers they have," he said.
However, Entner stressed the stiff competition forming around VoIP services as third party players, including Skype, Vonage, and AT&T, mix with managed VoIP providers that include Verizon, Sprint and large cable companies.
Still, Entner also pointed out that millions of people are already using VoIP services.
"So VoIP already is prime time," he added.
Features for Quality
Yankee Group senior analyst Zeus Kerravala indicated the RadioShack deal represented another distribution channel for Skype, and showed the view that VoIP does not work or suffers from poor quality is changing.
Nevertheless, Kerravala said because it relies on the public Internet, VoIP does still have quality challenges, and its appeal to consumers boils down to their willingness to trade features and cost for quality.
Kerravala said he expects to cable carriers and telecom giants will continue to offer "triple-play" service bundles that include video, Internet and voice services, including VoIP.
"Most people will want video content, and voice as an application comes along for the ride," he said.