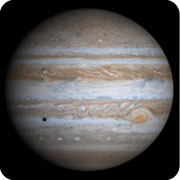 Astronomers have long suspected that Jupiter undergoes more frequent collisions with space objects than we know, but this past Monday one apparently occurred that was so dramatic as to even be visible with amateur telescopes here on Earth.
Wisconsin-based amateur astronomer Dan Peterson first reportedthe event, having viewed it as it happened. Soon afterward, he described what he had seen online.
Dallas-based astrophotography enthusiast George Hall took the discovery further.
"When I saw [Peterson's] post, I went back and examined the videos that I had collected this morning," he wrote in a blog post of his own later that day.
Sure enough, there in Hall's footage was a clear view of a brief but fiery explosion on the planet: "an apparent object impact captured about 6:35 am on Sept. 10, 2012, from Dallas, Texas USA."
What, exactly, caused the impact is not yet clear, but the most likely explanation appears to be either a comet or an asteroid.
Mysterious Waves
"Impacts of comets and asteroids onto Jupiter's atmosphere may be more frequent than previously thought," Mario Livio, a senior astrophysicist with the Space Telescope Science Institute, told TechNewsWorld.
Similar impacts in recent years were caused by objects including Comet Shoemaker-Levy 9, which broke up and collided with Jupiter in 1994, and an asteroid that collided with the planet in 2009, Livio pointed out.
"Following up on these impacts provides much information about the conditions in Jupiter's atmosphere," he explained. In fact, "to this very day, some of the waves seen propagating following the 1994 impact remain somewhat of a mystery."
Given that the evolution of life on Earth was also punctuated by asteroid impacts, "clearly understanding these events is important," Livio concluded.
'It's the Floor Sweeper'
Many scientists believe that Jupiter, with its strong gravitational pull, acts as a sort of "magnet" that prevents many comets and asteroids from hitting Earth, Paul Czysz, a professor emeritus of aerospace engineering with St. Louis University, told TechNewsWorld.
"Jupiter probably gets impacted more than we see," Czysz explained. "It basically deflects them enough that they don't come close to Earth."
In other words, from our perspective, "it's good that Jupiter is there," Czysz added. "It has basically protected the inner planets from a lot more impacts. It's the 'floor sweeper' that keeps the junk from coming into the inner planets."
'The More Scared You Get'
Saturn and the moon, in fact, have done much the same thing, but on a lesser scale, he pointed out.
On the moon, for instance, "every one of those craters you see represents an impact," he said.
There are occasionally Earth-crossing asteroids, to be sure, but "the Earth is so small that it's really an unfortunate happenstance if one actually hits Earth," Czysz explained. "It's like having a 10-mile-wide target and a ping pong ball in the middle, and throwing rocks to try to hit it."
Until humans developed modern telescopic equipment, moreover, we weren't even aware of most asteroids, Czysz added.
Now, however, "the more you find out, the more scared you get," he concluded.
'The Luck of the Draw'
It's not necessarily true that Jupiter provides a shield for Earth, said William Newman, a professor in the departments of earth and space sciences, physics and astronomy, and mathematics at UCLA.
Rather, it's "more the luck of the draw," he told TechNewsWorld. "Jupiter will certainly prevent some objects and take the hit itself, but others will enter. The fact that others have occurred is proof."
In any case, given that NASA's Jet Propulsion Lab, for one, has an ongoing project to watch for asteroids and comets, why did this latest hit on Jupiter come as such a surprise?
'Black Against Black'
Well, for one thing, "you can't see them, they're so black," Czysz said. "They reflect less than 1 percent of their light. They're black against a black background."
Indeed, "the larger ones we can detect, but the smaller ones are difficult," Newman explained. "There are tiny objects that get away, and we don't see them until we have a near miss."
However, that's far from a frequent occurrence, particularly among the larger objects, Newman pointed out.
"The little guys include shooting stars and cometary debris — there's a lot of that stuff," he said. "Every time you go up by a factor of 10 in size, the frequency goes down by more than a factor of 10."
'We Don't See Much of the Big Stuff'
The last really big such event occurred 65 million years ago, Newman noted.
"There have been three or four or maybe five others in the last hundreds of millions of years, and they've been widely spaced in time," he added. "But they played a big role in our early solar system." [*Correction – Sept. 19, 2012]
Today, however, "we're not likely to see one that size," Newman concluded. "Happily, we don't see much of the big stuff."
---
*ECT News Network editor's note – Sept. 19, 2012:
The original version of this article incorrectly quoted William Newman as stating that several events occurred in the last 100 million years.