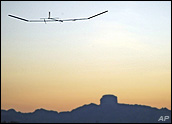 A high-tech plane has reached new heights in the world of solar energy, flying a record-setting 82 hours and 37 minutes on the power of the sun. The QinetiQ Zephyr aircraft more than doubled the world record for an unmanned, solar-powered flight in its jaunt within the West Coast, the company announced over the weekend.
While the flight isn't likely to snag the official world record spot — its circumstances did not fall within the official guidelines of world air sports agency Fdration Aronautique Internationale, a spokesperson told the Associated Press — it does mark a new milestone in solar energy research that could have long-lasting effects.
Light-Weight Champion
The Zephyr is a 66-lb. aircraft that, unlike previous solar models, is launched by hand. Solar panels as thin as paper line its fittingly tiny wings. The plane itself is made of a carbon fiber material and uses lithium-sulfur batteries to hold the energy collected from the sun. The Zephyr can fly as high as 60,000 feet into the air, its makers say.
The plane is funded by the U.K. Ministry of Defense, with additional support from the U.S. Department of Defense. The recent three-and-a-half day flight actually took place at the Army's Yuma Proving Ground in Arizona. QinetiQ wants to see the creation eventually be used for military communications and Earth observation.
Passenger Delay
Practically speaking, don't expect to board a solar-powered passenger flight any time soon. The true value of the experiment, scientists say, lies more in its demonstration of solar energy's potential.
"We're certainly not going to run airplanes on solar energy and get anywhere very fast," Mark Bernstein, managing director of the USC Energy Institute, told TechNewsWorld. "What it does for the industry overall is show what you can actually do with solar — show that it is a viable energy source," he said.
The technology could have a place within transportation, Bernstein believes — though it's more likely to be on the ground than in the sky.
"There are now people already taking Toyota Priuses and putting solar on the roof to help recharge the batteries," Bernstein pointed out. "It's going to take a lot more improvements in efficiency to be able to generate enough power to just do solar in cars, but I think it'll be something that will supplement what we have in the future," he explained.
Solar Future
Even if it won't take you on your next cross-country trip, don't discount the value of solar energy's role in our day-to-day lives. The industry, Bernstein said, is quickly growing within the energy field — and we can expect to see plenty more applications as costs fall over the coming years.
"Its best use is stationary applications for electricity generation. That's what we're going to see its major use for in the near term," he predicted.
Solar companies have more demand than they can satisfy, he said. "Still, it's only a small part of our overall energy budget — but it's growing very rapidly. As it keeps growing, the cost will come down and we'll begin to see it have a bigger impact on our overall energy consumption," Bernstein concluded.