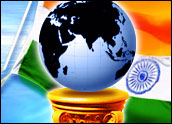 Sony Ericsson announced on Wednesday it will begin manufacturing low-end color screen and music playing mobile handsets in India through an agreement with its global outsourcing manufacturing partners, Flextronics and Foxconn.
The phones, intended for local distribution, will not only offer a competitive price, but will also include features customized for the Indian market, such as local content and specially-designed keypads, the company said.
Sony Ericsson entered in the Indian handset market in 2002 and is among the top three cellular phone makers in that country, according to the company. The mobile manufacturer said the move was "part of a strategic and longer term growth plan," under which Sony Ericsson aims to increase its presence in important growth markets around the world to achieve greater manufacturing flexibility and a competitive edge.
Passage to India
India is one of the hottest growing markets for mobile handsets in the world. According to statistics released by the Telecom Regulatory Authority of India (TRAI) in Delhi, nearly 74 million Indians signed on as wireless subscribers in 2006. The number represents a 97 percent increase between December 2005 and December 2006, from 75.94 million to 149.5 million. In December 2006, India added 6.48 million subscribers.
Although China still comes in as the largest mobile market in the world with some 443 million subscribers, India has significant room to grow with an overall teledensity, or ratio of phones to population, at 17.16 percent, according to the TRAI. That is nearly a 100 percent increase since 2004, when the percentage was 8.62.
Boomtown for Mobile
Sony Ericsson joins Nokia, Motorola and Samsung, who have already begun shifting their product development and manufacturing efforts to take advantage of India's rapidly expanding market. Besides being a huge number of potential buyers, India is an outstanding market for mobile phone sales because the majority of Indians prepay for their phones, Bill Hughes, an analyst at In-Stat, told TechNewsWorld.
Unlike the United States, where most phones are postpaid, meaning that subscribers have to sign a contract with a carrier, in India more than 80 percent of mobile phones are prepaid, he explained. While the prepaid model is not good for carriers because much of their profit is based on sales of value-added services and usage, both of which are very low in India, it is good for handset manufacturers because the cost of the phone is paid in full and not subsidized by the carrier.
The Sony brand name is a boon that could propel the company past its rivals in the Indian market, according to Hughes. Contrary to the American habit of using multiple devices, Asian consumers prefer to use a single multi-functioning device. Because of the success and global branding of the Sony Walkman, more Indians will be likely to purchase a Sony Ericsson handset based on their knowledge of the product line.
"If you are only going to get one device, having a very slick MP3 player in it with a brand name like Sony is going to be very successful," Hughes said.
Penetration Threshold
Investors should look for handset manufacturers to continue their movement into growing markets where the population is large but cell phone penetration is relatively low, advised Hughes. Those countries include Indonesia, Brazil, Pakistan, Bangladesh and Russia..
"Indonesia has a 28 percent penetration, compared to the United States, which is at 92 percent penetration," he said.
Owning multiple mobile phones can push a country over the 100 percent penetration mark, such as the United Arab Emirates, where penetration is 188 percent. Manufacturers are looking for markets where the number of subscribers divided by its citizenry is relatively low.
"The big opportunities are where you have low penetration and high populations," Hughes explained. "There are carriers in all these countries, and I'm sure [the manufacturers] would love to be there."