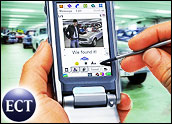 Sony Ericsson has taught its newest smartphone some new tricks, unveiling the P990 handheld with Symbian operating system version 9.1, UMTS and WiFi connectivity, integrated keyboard under flip-down number keypad, and a 2 megapixel camera.
The new smartphone retains the form factor and weight of previous models, including the successful P800, P900 and P910. Sony Ericsson said it was announcing the phone, to be available in the first quarter of next year, early to ensure applications for the new Symbian and UIQ 3 software platform.
"The technical prowess of the P990 will be brought to life by applications from the third-party developer community," said a statement from Jan Wareby, company executive vice president and head of sales and marketing. "Demand for applications on the P800, P900 and P910 has been very high."
Meanwhile, analysts indicated that, although smartphones are still not ready to break into the mainstream market, they are improving with new models and product updates such as the P990.
Smarter Smartphone
Sony Ericsson — which also announced C++ and Java developer support for the new Symbian-UIQ 3 platform — said the P990 was designed to be a capable mobile phone with UMTS features including video calling, multimedia downloads and Internet browsing via the new Opera 8 browser. The device, prepared for e-mail push functionality from major e-mail clients, has multiple text input methods highlighted by a new hardware keyboard positioned beneath the flip-down keypad.
The memory of the device has been upped to 80 MB and combines the "complementary" UMTS and wireless LAN (WLAN) connection options.
Sony Ericsson also highlighted new features, including an automatic time zone change to the calendar diary, extended PC synchronization possibilities, and the 2 megapixel camera with autofocus, digital zoom, photo light plus and TFT screen and video recording capability.
Importance of Price
Gartner research Vice President Phil Redman said that while smartphone technology, capabilities and form factors are improving, the market — currently about 10 percent of business phones — is still held back by the price of the devices.
"In 2008, we think they will account for 70 percent of business phones, so we think there's going to be rapid growth," Redman told TechNewsWorld. "It's because today's US$300 or $400 smartphone is tomorrow's free phone. We think it's still a price issue."
Redman added that manufacturers will get to cheaper price points by using more commoditized operating systems such as Symbian or Windows Mobile, and will continue to incorporate more features along the way.
"Today, a camera may be standard, because it's standard in every phone," he explained. "Maybe it will be GPS, or virtual display. Who knows?"
Still, Redman said bandwidth is not an issue, as the needs are not great for devices that are serving for mostly text-based activities, particularly e-mail.
Handheld Role
Yankee Group senior analyst John Jackson told TechNewsWorld that the smartphone market is headed in two distinct directions for enterprise users and for consumers.
Regardless of the operating system, he said, handset makers are looking to bring a richer experience to users, and while devices are improving in iterations, the breakthrough change to mass market attraction has yet to come.
"What's more important is whether the smartphone is part of a broader solution, like e-mail oriented," he said.
Noting that built-in wireless LAN is increasingly becoming a "check-off item," Jackson said smartphones represent a case of supply needing demand.
"The market has to be shown the advantages before there is that market inflection [and broader adoption]," he said.