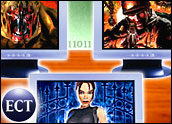 A recent investor report has highlighted expected losses for PlayStation 3 maker Sony, which will take an estimated hit of US$100 per sold next-gen gaming console when the devices go on sale next year.
However, industry analysts said the negative margin is nothing new in gaming, pointing out that Microsoft, which will roll out its Xbox 360 sooner and for a lower price, will also be forced to sell its next-gen console at a price that's less than what it costs to produce it.
That means the real game comes down to software, where Microsoft is rumored to be considering Xbox games for other platforms and looking to repeat its popular "Halo 2" game release. Sony, on the other hand, has struggled somewhat with its strategy on software, where console manufacturers typically make back their hardware losses. Still, the PlayStation maker holds a dominant, global brand and is sure to fight hard to keep its top gaming position.
PlayStation Penalty
The report this week from Merrill Lynch Japan said that although hardware losses are normal for consoles, Sony's penalty for pricing the PlayStation 3 at an estimated $400 will cost the company $1 billion during the first year of sales.
The report also predicted potentially large losses for subsequent years of PlayStation 3 sales, which could be further impacted by an even cheaper Xbox 360 from Microsoft, which will have a predicted price of $300 when released later this year.
Japanese press reports included input from Sony's Ken Kutagari, an original PlayStation developer, who said he was hopeful consumers across the globe would be willing to pay more for PlayStation 3, just as they had with previous iterations of the popular gaming console and other devices, such as the PSP handheld.
Running Up the Bill
Parks Associates analyst Michael Cai told TechNewsWorld the costs of producing the PlayStation were greater than the costs of making the Xbox, mainly because the PS3 has Blu-ray high-definition DVD support and because Sony uses the Cell processor, which is also more expensive than the Power PC processor used in Xbox 360.
Cai said Merrill Lynch's calculations and predictions were credible, but he did not think the impact would be as hard on Sony as the report indicated.
"The bottom line is, it's not surprising [they're taking a loss]," he said. "That's the way they did the last generation of PlayStation. They had a loss in the first year or two, and they made it up in software."
Pressure and Popularity
Cai said there will be a lot of pressure on Sony since it is delivering its PlayStation 3 console later and at a higher price than the Xbox 360. However, the analyst said Microsoft is also subsidizing its console hardware and will incur losses as well.
While Sony may have to take even more losses to keep its price competitive with Microsoft's, the Japanese giant also has a significant following around the world, he pointed out.
"In the U.S., Xbox is more formidable," Cai said. "But worldwide, Sony has much bigger mind share and market share among gamers. This brand recognition isn't going to go away."