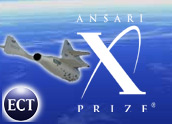 The second private space flight in a week piloted by history's second civilian astronaut was worth US$10 million today as the Paul Allen-funded SpaceShipOne (SS1) touched the edge of space and returned to Earth winner of the Ansari X Prize.
The SS1 team, who will collect the prize officially at a presentation November 6, reached the designated 62-mile mark that designates sub-orbital space for the eight-year-old Ansari X Prize. This week's flight, piloted by Brian Binney, was the second successful, private space mission to carry the SS1 operator and equivalent weight of two other people to space and back in six days. Last Wednesday, Mike Melvill piloted the same craft in a successful flight that included some unanticipated rolls at the flight's peak.
Still, Burt Rutan of SS1 maker Scaled Composites explained the rolls as less significant than media and Internet reports indicated, calling them a learning experience for the X Prize-winning team.
After this week's successful second flight, X Prize founder Peter Diamandis praised the accomplishment of getting a spacecraft that would fit in a two-car garage to space and back safely within days.
"We have, finally, the beginning of the personal space flight revolution," Diamandis told CNN.
Twice As Nice
The X Prize has risen to prominence since last May, when the SS1 team flew its first test flight in a mission near the sub-orbital space frontier flown by Melvill without the additional weight.
Last week's SS1 flight marked the first of two missions carrying pilot and passenger weight 62 miles from Earth, a task required to be completed twice in two weeks to be eligible for the X Prize title. The missile-shaped SS1 craft was launched from its mother plane, known as White Knight, at about 50,000 feet.
This week's flight was less eventful without the rolls, but more historic in marking the X Prize title and the success of private space travel, tourism and industry.
Space Tours and Beyond
The Space Review editor Jeff Foust said the successful flights and winning of the X Prize had significant implications for the private space industry, but more importantly for the public's perception of it.
"I think the X Prize has been instrumental in promoting commercial human suborbital spaceflight," Foust told TechNewsWorld. "This opens up commercial markets that include not just tourism but remote sensing, microgravity testing, and down the road, fast package delivery and point-to-point transportation."
Foust said the X Prize and successful teams participating in the competition made space seem more accessible to the public, perhaps helping them to realize that space is far more than just NASA.
Rolls Revisited
While the second, X Prize-winning flight was smooth and successful, last week's SS1 space mission included some unexpected rolls as the craft reached its apogee of 337,600 feet. This week's flight flew past the 328,000-foot threshold to more than 360,000 feet, according to X Prize officials.
Rutan played down the rolls and dispelled rumors that the craft was under stress, out of control, or that Melvill ignored orders to shut down the rocket engine. The aviation and now space pioneer also described the rolls as a valuable lesson for the SS1 team.
"While we did not plan the rolls, we did get valuable engineering data on how well our reaction control system thruster (RCS) system works in space to damp high angular rates," Rutan said in a statement. "We also got a further evaluation of our Care-free Re-entry capability, under a challenging test condition. As seen on the videos of the flight, the ship righted itself quickly and accurately without pilot input as it fell straight into the atmosphere. No other winged, horizontal-landing spaceship (X-15, Buran, SpaceShuttle) has this capability."
Foust said the rolls indicated the novelty of the private spacecraft and added there will be more test flights required before passengers are taken to space.
More To Come
Foust also pointed to other X Prize competitors — teams such as Armadillo Aerospace run by John Carmack of id Software fame, the UK's Starchaser, two Canadian teams known as The da Vinci Project and Canadian Arrow and others.
"There will certainly be life after the X Prize is won," Foust said.
"There are plans for an annual competition, called the X Prize Cup, that will be held in New Mexico starting in 2005. Moreover, many of these teams will no doubt try to seek customers for space tourism and other ventures. Even if SpaceShipOne wins the X Prize, several competitors could find long-term success commercially."
The SS1 has already had some degree of commercial success. Last month it was announced that the Virgin Group had signed a $21.5 million licensing deal with Allen's Mojave Aerospace Ventures to produce reusable SS1 vehicles for private space travel.