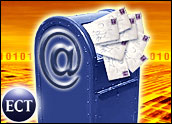 Incessant, unsolicited e-mail brought out the worst of a Sunnyvale, California programmer who is now charged with 11 federal counts of illegal interstate communications after he graphically threatened to harm, torture and kill the alleged spammer in a series of e-mails and telephone messages.
As it turns out, 44-year-old Charles Booher — who faces a maximum of five years in prison and US$250,000 in fines — directed his anger at the wrong company, an error that has highlighted the deception associated with unsolicited e-mail, also known as spam.
Booher, who reportedly said he regrets his actions, sent threatening e-mail and left profanity-laden phone messages for Douglas Mackay and others at the Victoria, Canada firm called DM Contact Management, according to a federal criminal complaint against him. However, the spam messages were not sent from DM Contact Management. Rather, they were sent from Albion Medical, which is also known as Leading Edge Marketing, a company based in the Bahamas, court records said.
"Mackay explained to Booher that Contact Management did not send him any e-mail messages on behalf of Albion," said the complaint. "Booher told Mackay, in graphic detail, that he would kill Mackay for sending messages to his e-mail account."
Spam Reaction
Although it is unclear exactly how Booher ended up targeting Mackay with the disturbing threats, Booher reportedly said that the name Doug Mackay appeared on one of the unsolicited e-mails from Albion Medical.
A professional software programmer and survivor of testicular cancer, Booher told federal investigators that the repetitive e-mail and the pop-up ads for penile enlargement were what set him off.
"Booher stated the reason he threatened Mackay was that Booher is a testicular cancer survivor and felt the e-mail messages in regard to penile enlargement were frustrating," said the complaint against Booher, who faces a preliminary hearing before a U.S. judge on December 11th in San Jose.
Tough Tracking
Forrester industry analyst Jan Sundgren told TechNewsWorld that despite effective spam-filtering technologies, unsolicited e-mail can cause frustration when it does leak through spam filters because it is often offensive material, such as pornography.
To make matters worse, spam is nearly impossible to track to its origin, according to Sundgren. "The way [the e-mail protocol works] now, it's not really designed for securely identifying people," he said. "If you want to hide and be anonymous, you can."
Direct Marketing Association spokesperson Lou Mastria, who said, not surprisingly, that spam filtering by ISPs often blocks legitimate e-mail but allows spoofed or faked e-mail to get through, told TechNewsWorld that the level of spam frustration among consumers is high.
"Because of spam-blocking software or consumers just being frustrated at the volume of it, they just lump and dump everything together," Mastria said. "The legitimate guys get lumped with the fake Viagra ads, mortgages that are too good to be true and Nigerian scams."
This recent reaction by Booher is a clear indication of frustration on the consumer's part, he added, saying that consumers often "reach out" by telephone to respond to spammers and request being taken off mailing lists.
Laws and Technology
In addition to advances in filtering technology and other antispam measures, the outcry over spam also has resulted in several state laws. California's laws are among the toughest, with penalties as high as $1 million per incident for deceptive e-mail advertisers.
Mastria said he hopes new federal legislation, likely to be signed by President Bush by the end of the year, will make the sender of solicitations more transparent and build more public trust in legitimate e-mail advertising.
Sundgren, who was critical of a federal law that preempts a tougher state law such as California's, said legislation will not play as important a role as technology in the ultimate battle against spam.
"I think technology's going to be a key part of it," he said. "There's going to be more and more success at stopping it."