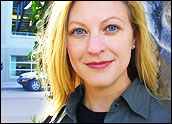 California began a series of public hearings on the SBC/AT&T merger in Oakland, Calif., this week. While the purpose is to gather public input, in reality, special interests dominate, putting the real public interest at risk.
An hour before the hearing took place, the meeting room was plastered with signs that could have been dusted off from the 1960s. "We want justice now," and "Consumers first, big business last," were two of the slogans. "SBC-AT&T you MUST do and give more," read another.
Teach Them How To Fish
Numerous speakers took the podium to urge the California Public Utilities Commission (CPUC) to force SBC/AT&T to be more philanthropic. Basically, the message from members of groups such as the Greenlining Institute and the Community Technology Foundation of California was "give us money or we will do everything we can to ruin your business plans."
To most people, that sounds a lot like blackmail, but in California it's called a "public hearing." And, believe it or not, there's precedent.
Back in 1997 when SBC wanted to merge with Pacific Bell, a similar situation occurred and SBC volunteered to pay US$50 million dollars over 10 ten years in order to get pro-regulatory and other special interests off their back. That was a pretty big sum to pay, and the money will soon run out.
A call to the recipient organization, the Community Technology Foundation of California, revealed that in almost ten years, they've haven't had much luck raising money from other sources. That is why they are trying to extort funds from telco companies. This should serve as a rather expensive reminder that instead of giving someone a fish, better to teach them how to catch their own. And that means allowing for conditions that create sustainable jobs.
SBC and AT&T are attempting to merge so that they can become a stronger company, innovate, and create lasting jobs. Indeed, in a report released last week, the Communications Workers of America said that without the merger, their jobs were in serious jeopardy as "there is a real threat that AT&T will face even more dramatic declines, or will disappear altogether." True enough, and future jobs are at risk too.
Energizing the Playing Field
When companies are stymied from organizing and operating in ways that allow them to most efficiently create goods and services, capital investment tends to drop. When that happens, industry growth tanks and, with it, consumer and community benefits.
Unfortunately, that's been the norm in the telecommunications space for far too long. But the industry's new revival comes from Silicon Valley, which does not generally suffer from heavy-handed regulations.
New technology such as Voice over Internet Protocol (VoIP) has changed the marketplace so that there is new competition. Gone are the days when telecom, cable, and satellite companies were different markets.
Now, they all compete, and this is energizing the community and forcing companies like SBC and AT&T to get off their laurels and fight for consumers on true merit. But this will only happen if governments get out of the way.
The best thing the CPUC could do to help California's economy, and hence communities, is to approve this merger with as few strings as possible. And if it does, it will be joining 24 states and 9 countries including South Africa, Estonia, Australia, Norway, Germany, Austria, Israel, Russia, and Pakistan.
Public Interest First
It might seem strange that California has the same type of control over the merger as international actors, but then again, California's economy is larger than 8 of the countries mentioned above. As for the United States, it may remain a global powerhouse but it has fallen far behind other countries in the rollout of broadband, ranking a dismal 13th.
America will fall even farther behind, putting more jobs and communities at risk, if the communications sector is not allowed to reorganize and become stronger. Regulators should take heed and act with the responsibility that comes with great power. That means putting the public interest above the coercive fundraising campaigns of special interest groups.
---
Sonia Arrison
, a TechNewsWorld columnist, is director of Technology Studies at the California-based
Pacific Research Institute
.
---