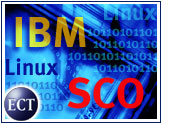 The perceived impact of the Linux licensing claims by Unix software maker SCO on enterprise use of the open-source OS, much like the recommended response to SCO, is split, according to industry analysts.
The legal posturing in the dispute, which began when SCO filed suit in March against IBM, claiming Unix source code from SCO was unlawfully incorporated into Linux iterations from Big Blue, continued as IBM echoed a legal argument based on the Linux General Public License (GPL).
SCO's claims and actions, which included contacting commercial Linux users and proposing they buy licenses for the latest versions of Linux, have not deterred use of the open-source system in corporate IT shops, according to British research firm Netcraft.
However, Yankee Group senior analyst Laura DiDio told TechNewsWorld that she knows of at least one customer that chose Microsoft's Windows over a Linux deployment from IBM because of the SCO claims.
"This is not going away," DiDio said. "At every juncture of this complex, convoluted case, SCO has stepped in and said, 'Yes, we own this, and yes, we're going to enforce it.'"
Nothing for Granted
The Yankee Group is advising customers to take nothing for granted when it comes to SCO's source-code claims. The firm is recommending review of indemnity clauses in software contracts, particularly in agreements with IBM, for both Unix and Linux users.
DiDio said that despite skepticism over SCO's claims, the Lindon, Utah-based software company has taken a "linear, by-the-book approach."
The analyst said SCO's price for licenses for commercial Linux users – not yet finalized but estimated by the company to be about US$700 per processor – would be reasonable compared with legal penalties were SCO to prevail in its suit.
"Does SCO have to prove its case? Of course," DiDio said. "The big risk is if it goes to trial and the unthinkable happens and SCO wins, there will be penalties and damages to pay."
Saying No to SCO
Conversely, other analysts and the open source community have rebuked SCO's call for licenses, arguing that the Unix software company must first prove its source code was improperly used in Linux software.
SCO's request for licenses from commercial Linux users "is based on allegations and not facts," Forrester analyst Stacey Quandt told TechNewsWorld. Quandt said that while there are legal issues to consider, purchasing a license from SCO is ultimately a business decision.
Aberdeen Group research director Bill Claybrook told TechNewsWorld that SCO's licensing proposal is "nonsense," adding that while IBM might be remaining publicly quiet on the issue, it is privately assuring customers they will not be affected.
Big Black and Blue
Still, Yankee's DiDio was critical of IBM's public silence on SCO's claims and call for licenses. Big Blue's public response to the suit has been limited to a single statement in June that defended its Unix license and blasted SCO's actions.
"They have steadfastly refused to publicly state whether they would indemnify customers and to what extent," DiDio said of IBM. "If I'm a CIO, that makes me nervous."
She said the case, which could take years to resolve, might result in a big payday for SCO if it wins and a big black eye for IBM if it fails to indemnify customers.
License Legality
As SCO rolls out its licensing plan with a new business division, IBM reportedly is echoing legal arguments questioning the need for a Linux license when the open-source software is covered by the GPL.
Columbia University law professor and general counsel for the Free Software Foundation Eben Moglen said SCO is asking for licenses from users who do not need them.
"[SCO] is licensing that code freely under the GPL," Moglen told TechNewsWorld. "How or why anybody would need to get another license from them is beyond me. It's under the GPL."
SCO spokesperson Blake Stowell, however, argued that the proposed license – a runtime-only binary license – is separate from Linux and the GPL that covers it. He told TechNewsWorld that SCO believes use of Linux could lead to end-user liability.