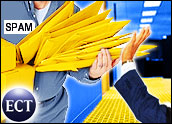 A New Zealand man who bore the brunt of the recent backlash against unwanted e-mail — known as spam — has said he is leaving the business that fills e-mail boxes with solicitations and suspect messages.
After an article in a local newspaper identified him as a major spammer, Shane Atkinson said he was inundated with threatening phone calls and had his personal information posted on the Internet.
Atkinson's outing might have been more effective at deterring the "spam king" than any of the many U.S. legislative efforts to stem the tide of unwanted e-mail, but analysts warned against such Internet vigilantism and said spam is still here to stay for now.
"You'll put a dent in it, but somebody else will be there to take his place," Gartner research director Maurene Caplan Grey told TechNewsWorld. "The spam kings understand how to get around the system. The only ones you'll frighten are the occasional spammers trying to make a few extra bucks this weekend."
Profile of the Spam King
Industry analysts agreed that there are two classes of spammers. In one class are those who dabble in mass-mailing solicitations and occasionally send e-mail. In the other class are the spam kings who reap large sums of money by sending out millions of unsolicited e-mail messages each day.
According to one recent estimate, fewer than 200 people are responsible for more than 90 percent of the spam sent globally.
Grey said there are a tremendous number of spammers who do not qualify as spam kings, but those who do are typically paid a percentage of product sales or a flat fee for sending millions of messages.
Industry analyst Joyce Graff told TechNewsWorld that unlike opportunists trying to find out whether spam is profitable, the bigger spam players typically work around antispam measures or efforts to reveal their identity or location.
"Unless they are hiding out and moving around, they don't last too long in the business," Graff said.
Web Vigilantism
Grey said the plight of Atkinson, who complained he feared for the safety of his family, might be entertaining for spam haters, but it is likely that additional efforts to expose spammers will not reduce the volume of spam on the Internet.
For her part, Graff said that while the current situation might indeed be sanguine, there is too much potential for wrongful targeting to promote the New Zealand situation as an example of effective spam defense.
"That kind of vigilante effort has been tried several times on the Internet," Graff said. "There's just too much opportunity for aiming at the wrong person."
Spam Supply Chain
Grey noted that the spammer, whether king or not, is far from the only entity that benefits from the flow of spam, which ranges from insurance solicitations to pornography ads to money-making scams.
Referring to providers of e-mail addresses, suppliers of spamming software and offshore Internet service providers, Grey said the spam supply chain can be lucrative for all parties involved.
The other benefactors are the legitimate spam-filtering software vendors, which are striving to keep up with their nemeses by introducing improved spamming tools and automation, according to Grey.
E-Mail Battle
Calling it a common tactic to keep up with the flood of spam, Grey said corporations are now mixing together several spam-fighting technologies. These antispam cocktails are designed to block unwanted e-mail and prevent it from slowing networks and having an impact on employee productivity.
Graff, who indicated that spam will persist as a significant problem for a long time to come, said the technology of antispam companies such as MessageLabs — which intercepts millions of messages per day — is quickly finding its way into mainstream applications to help companies try to keep up with the latest spamming tricks.
"It's a very, very fast-changing field, and it's a very fast-moving game," she said.