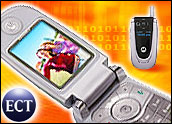 A startup launching this week aims to bring mobile e-mail — now mainly ensconced in the enterprise with technology such as the Research In Motion (RIM) BlackBerry — to the average consumer by promising to deliver e-mail and instant messages to traditional mobile phones.
Berggi has been operating in stealth mode for several months and claims to have signed up some 100,000 users over that time. The consumer service will go live this week.
A Simple Mission
"From the outset, Berggi has had a simple mission: to bring mobile messaging to the masses," said CEO Babur Ozden. "That means developing a service that can easily run over any phone, over any service, and at a price point that makes sense to the average consumer."
Ozden, the founder of what is now Turkey's largest Internet Service Provider, joined the company in May. It was founded by other European mobile executives, including Jorge Mata, who founded MyAlert.com, a Spain-based text message marketing firm.
In the U.S., users pay US$9.99 per month to access the service — on top of their regular mobile service plans — and can get access to multiple e-mail accounts as well as popular instant messaging platforms, such as Yahoo, AOL Instant Messenger (AIM) and Google Talk. The fee is charged each month and no long-term service plans are required, the firm said. European users will have the option of paying by the message.
The firm said the service is aimed at consumers who use basic mobile phones, which still make up the majority of phones in use despite the rapid growth in adoption of multi-function smartphones.
Dumb Phones Smart
Berggi believes claims it has solved the usability issues that have kept mobile messaging from reaching the mainstream, using an interface specifically designed for the small displays of mobile phones. The approach uses software downloaded to the phone that creates a user-friendly interface designed specifically for mobile use, the company said.
"The combination of our technology roots in Europe — the crucible for most innovation in the mobile and wireless markets — and our presence in the U.S., prepare us well for our mission to bring Berggi to the masses," said Ozden.
The Berggi solution began development in 2003, according to its Web site. A year later, the firm won its first financial backing, and spent more than a year developing its underlying technology and the mobile software. The firm won venture backing early in 2006, with Adara investing $3 million in the firm, and laid plans to launch in both Spain and the U.S. this year. Additional launches are planned for early 2007.
E-Mail for the Masses?
By letting users keep their more basic mobile phones and building a customized mobile interface, Berggi "may have found a way to make mobile messaging a mass-market play," Burton Group Research Director David Passmore said.
Berggi could greatly expand the markets — now limited mainly to enterprises — by "focusing on delivering high-value services over commodity phones, and teaming with consumer brands to bring these services to market," Passmore explained.
RIM's BlackBerry service and rivals such as the Palm Treo have been adopted by some enterprises, but the potential for mass-market consumer adoption remains. Currently, existing devices and most data-and-voice service plans are still too expensive for most non-business users.
The potential market for mobile e-mail is enormous, Bear Stearns Analyst Andrew Neff said. "The question is what price of service and handset is required to spark that growth," Neff told TechNewsWorld.