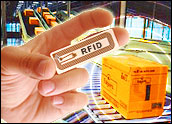 A new study is raising questions over how radio frequency identification chips could be interacting with hospital equipment. The report, published this week in the Journal of the American Medical Association, suggests RFID chips could cause some medical devices to fail when in close contact.
RFID chips have grown in popularity for corporate inventory tracking, library management and even passport data control. They also power many cities' transit payment systems and are used for animal identification and store theft control. More recently, some hospitals have begun using the technology to monitor medical products and other hospital resources.
Health Applications
U.S. health providers are currently spending US$90 million a year on RFID systems — an amount expected to more than double in the coming decade, according to the study's authors.
"It's become more popular in the last 12 to 18 months," Dan Mullen, president of the Association for Automatic Identification and Mobility, told TechNewsWorld. Mullen's organization acts as the international trade association for manufacturers of RFID technology.
"They're starting to crop up in terms of asset tracking — primarily applications where they're trying to know where equipment is. It can be utilizing a WiFi network to locate equipment in most cases," he said.
The technology, however, may not be as widespread as one might think. Several healthcare providers contacted by TechNewsWorld said RFID is viewed as an advanced and high-cost platform and is still far from prevalent even in many larger hospitals.
Interference Concern
The concern raised by the study revolves around radio frequencies sent out by the chips. Past research has found such waves in electronic anti-theft systems can interfere with certain pacemakers and defibrillators, so the authors wanted to see if hospital-based medical devices would be affected in a similar way.
Scientists set up two different kinds of RFID devices inside an empty intensive care unit room. They measured whether electromagnetic interference from the chips was reaching 41 nearby medical devices, ranging from pacemakers to dialysis systems.
The researchers found 22 "hazardous" incidences of interference. These included, they say, ventilators switching off or changing rates, syringe pumps stopping, external pacemakers malfunctioning, and kidney replacement devices shutting down.
Don't Panic
One thing worth noting: Most equipment affected was all within a foot of the RFID chips — much of it less than 10 inches away. The likelihood of RFID chips being placed within such a short range of hospital equipment, Mullen said, is probably not high.
"It's important to understand the interaction and the distance," Mullen noted.
"I don't think there's any need to panic. RFID is starting to hit more mainstream applications, and as it does so, it might interact in the hospital environment in different ways. It's a good thing to study that," he said.
Next Steps
The study's authors did not recommend removing or banning the RFID technology from hospitals, noting that it does have a strong potential to help healthcare providers. They did, however, suggest moving forward with additional testing and efforts to create standards for how these devices should be used.
"The intensity of electronic life-supporting medical devices in this area requires careful management of the introduction of new wireless communications such as RFID," the researchers concluded. "Implementation of RFID in the ICU and other similar healthcare environments should require on-site EMI tests in addition to updated international standards."
Such standards may be an asset to both hospitals and the companies creating the technology — and may become a more common consideration as different kinds of electronics enter all facets of our lives.
"These sort of studies are important to understand the potential impact of any electronics in the hospital environment," Mullen said. "Right now, I don't see any kind of major concern. Best practices, standards, guidelines — as technology is matured and the use of it is moving forward, I think you'll see more of those sorts of things."