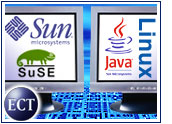 Users of Sun Microsystems' hardware will now have another open-source software option thanks to an alliance between Sun and SuSE that means Sun will sell and support SuSE Linux Enterprise Server 8 on Sun's x86 systems.
According to the deal announced Friday, SuSE will become a Java 2 Standard Edition licensee and will distribute Sun's Java Virtual Machine (JVM) application environment with its line of Linux products. For its part, Sun will sell, ship and provide full support for SuSE's Linux Enterprise Server 8, the companies said.
The move is part of Sun's open-source strategy and the company's overt recognition of the growing market for Linux systems, but the company is being forced to walk a fine line between its own Solaris software and open-source products that tailor to tight corporate budgets, according to analysts.
Yankee Group senior analyst Dana Gardner told TechNewsWorld that Sun's movement on Linux — which earlier this week included integration of the open-source Gnome desktop interface in the latest Solaris update – still leaves the choice of open source versus Solaris to software vendors, developers and users.
"That's going to be where the tension remains," Gardner said.
Symbiotic Pact
Gardner said both Sun and SuSE are realizing their respective strategies through the agreement. Sun furthers its work to make JVM an "automatic part" of the tools for developers, while SuSE gets wider distribution of its Linux software through another large hardware player.
"This is a convenient and deliberate quid pro quo," Gardner said. "SuSE helps Sun with Java and Sun helps SuSE with Linux."
Gardner said Sun's integration of the open-source Gnome interface into Solaris sent a larger message to the open-source community than the SuSE deal, which he said is squarely aimed at broader delivery of Sun's JVM.
Looking to Linux
Sun touted greater choice and innovation in announcing the alliance with SuSE, pointing out that the alliance will mean Sun services and support for SuSE Linux on its x86 commodity systems.
Sun, which already has a similar partnership with Linux distributor Red Hat, said it would also support SuSE Linux Enterprise Server 8 on third-party, SuSE-certified hardware systems and in heterogeneous environments.
"This agreement further demonstrates the accelerating momentum of Java and Sun's support for the open community," Sun executive vice president of software Jonathan Schwartz said.
Jump Into Java
SuSE spokesperson Joe Eckert told TechNewsWorld that by giving SuSE the JVM source code, the deal will enable the Linux software seller to do much more with Java.
"It really means a lot to both us and our partners," Eckert said, adding that SuSE customers had called for an agreement with Sun.
He also said the Linux distribution part of the deal adds to SuSE's relationships with large hardware partners, which have included IBM, Hewlett-Packard and Fujitsu.
"To be a small company and have the global reach of those companies, it doesn't get any better than that," Eckert said.
Open Relationship
Yankee's Gardner said the alliance, which was expected following Sun's announcement of a Linux strategy last spring, highlights the compatibility of Java and Linux.
"There tends to be a natural affinity between Java and Linux," Gardner said. "For these two environments to be complementary makes perfect sense."
SuSE's Eckert referred to the complex mix of open source and proprietary hardware and software that exists in today's enterprise IT shops. "It's a heterogeneous world," Eckert said. "The more hardware and software you can support, the better off you'll be."