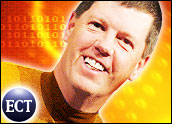 Boasting half a billion dollars of technology innovation and no fewer than 20 new products, Sun Microsystems has released new software, systems and pricing aimed at leveraging its new relationship with chipmaker Advanced Micro Devices. As part of the strategy, Sun plans to move into the small-business market by promoting Java as a programming language and a platform.
Consistent with this latest push, Sun recently reduced pricing on its relatively new Java Enterprise System and Java Desktop System. Plus, the company has released a new AMD Opteron-powered server, lower-priced blade servers and a new Java development environment called Studio Creator.
The flurry of activity — which some analysts have said amounts to Sun's fight for survival — comes at a critical time for the Santa Clara, California-based company, which has seen sales of its previous staple, server hardware, plummet in recent quarters.
"With all of the conversation about defection to Linux from the Microsoft world, it's actually been Sun that's been hit the worst," Yankee Group senior analyst Laura DiDio told TechNewsWorld. "It's almost like there's blood in the water — everyone's been homing in on them, and they've had a lot of mass defections."
Tough Transition
In announcing its new quarterly products and updates, chief executive Scott McNealy talked about how the company has worked to move its Solaris and Java systems from Sun's traditional high-end hardware to lower-cost platforms.
"In the past four quarters, we've delivered almost 100 new features for the Network Computer, ranging from low-cost x86- and UltraSPARC-based systems running the Solaris Operating System and Linux through to a complete blades platform with N1 software solutions and our radical new Sun Java System for the enterprise and the desktop," McNealy said at the SunNetwork Conference in Berlin, Germany.
Gartner research vice president Martin Reynolds told TechNewsWorld that Sun has struggled against losses in server revenue, particularly as the industry has begun to move steadily away from big systems and toward lower-cost systems that are more financially accessible to smaller businesses.
Opteron Opportunities
Reynolds said Sun's recent deal to use AMD's Opteron processors is extremely important because it moves the company into a market that it formerly could not have entered. "It helps them in the hot server market," he said.
Recent server revenue figures from research firm IDC indicate Sun is trailing well behind leaders IBM and HP, with challenger Dell pulling even with Sun. IDC said growth in the most recent quarter was driven by "volume servers," or low-end servers priced below US$25,000.
Sales of midrange servers also grew. But at the high end, where Sun has traditionally excelled, revenue declined last quarter, according to IDC.
Reynolds also said the Opteron might help Sun regain more control over the development and distribution of Java as it increases its market share in lower-cost hardware.
Crunch Time
Reynolds said Sun is taking the right steps to reduce its losses, but the effectiveness of measures such as partnering with AMD or focusing more on lower-end servers will not be known for some time. "They need to drive some changes," he said. "Clearly, what they're doing now isn't working."
DiDio, who said Sun has seen its Java market co-opted by IBM, agreed that Sun is being forced to change its strategy because of economic conditions as well as heavy competition from IBM, HP, Microsoft and Linux.
"Sun is at an extremely crucial, critical juncture," DiDio said. "They have been trying to turn a hardware company into a network services company. That's difficult even in an economic boom, and we're obviously not in a boom."
Still, DiDio pointed to bright spots for Sun, such as the company's StarOffice 7 software, which, given the right marketing and promotion strategies, could deliver the kind of momentum Wall Street is demanding.
"There's one quarter left — this is it," she said. "They still have money, but you have to jump-start those revenues. Twenty products sounds good, but which ones do they have the best chance of getting to market with? What it's really going to come down to is several core products that are really going to help them out."