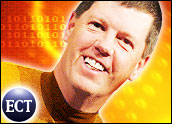 How far Sun Microsystems and Microsoft take their newfound cooperation remains to be seen, but analysts agree both companies are being forced to embrace one another to fight off the successful interoperability and multiplatform approach of others, such as IBM, HP, Dell and Novell.
The recent announcement of collaboration between the two technology giants — formerly combatants in a war over Java, Web services and other major issues — may be more noise than substance. However, there is also an opportunity for both companies to leverage the success of Java, which has benefited IBM and others more than Sun, and to fight Linux, which threatens the market share of both companies.
In fact, there has been much speculation in the industry about the effect that the Sun-Microsoft alliance could have on Linux. "There's an interesting sort of development [in] how Java and Linux have come together," Yankee Group senior analyst Dana Gardner said.
"Linux and Java have allowed the underlying operating system to become less relevant," said Gardner. "Now, in a topsy-turvy kind of a thing, [Microsoft and Sun have] come together on Java, as [corporate struggles are] not doing either of them any particular amount of good."
Demand and Signal
Meta Group senior vice president Nick Gall said both Sun and Microsoft, which have discussed fairly broad collaboration and sharing possibilities but have not yet committed to details, are responding to customer demand for interoperability. However, Gall pointed out that any aspect of the two companies' announced alliance could be dialed back by either party.
"This is all about intention, and this is all about signaling," Gall told TechNewsWorld. "It's an intention from Sun and Microsoft to no longer play a zero-sum game, where Sun has to go down for Microsoft to win. Instead, they'll do things that will make them both winners."
Gall added that from a developer point of view, the truce and teamwork between Sun and Microsoft means a more comfortable environment for Web services, which is among likely collaboration projects that bridge Microsoft's .Net and Sun's J2EE platforms.
"Those building on Web services are much more assured now that it will be a cross-platform solution," he said.
Dual OS Strategy
Gall also said both companies realized that rather than trying to lock developers, independent software vendors (ISVs) and users into a certain platform, there is success to be had in offering interoperability and flexibility. HP, IBM and Dell are all examples of this dual operating-system strategy.
"These days, it means multiple system vendors with Unix, Linux and Windows," Gall said. "Sun is the only system vendor who doesn't support Windows. It's a necessary step in the eyes of the user for them to be as good of a source as the other Intel suppliers."
The Yankee Group's Gardner agreed, adding that, directly or indirectly, Sun and Microsoft are responding to the success of HP, IBM, Novell and Linux backer Red Hat.
"Companies want heterogeneity," Gardner said. "They need multiple systems, and they have multiple systems."
How Far Will They Go?
Gardner indicated Sun and Microsoft opened a Pandora's Box of sorts in discussing broad possibilities for their alliance but disclosing little detail beyond that. However, the analyst said the two companies share bytecode that is close enough already to integrate and compete more effectively against Linux.
"If you're going to play nice, play really nice," Gardner said. "I think there's an opportunity for both companies to keep tossing conventional wisdom and create a level of heterogeneity that would make ISVs, developers and engineers reassess [their offerings].
"I think there's a technology gem," he added. "It has to be something they agree to do and do it, but it could allow for developers and choice of deployment on Java or Windows."
Meta Group's Gall, who said interoperability between systems was the key to the pact, said that despite higher-level similarities, such as a virtual machine and communication language, a hybrid Microsoft-Sun platform is unlikely.
"That's a serious amount of engineering work, and there's no easy way for either company to change their architectures now," Gall said. "The bigger case is interoperability. That's where I'd look for good efforts first."