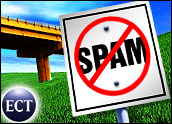 Symantec, a global leader in information security, announced that it has signed an agreement to acquire Brightmail, a maker of anti-spam technology, in a cash transaction valued at approximately US$370 million. According to the company, Brightmail's anti-spam technology will be a key complement to Symantec's array of gateway security solutions.
The acquisition, conditional upon customary regulatory approval, is expected to close by early July. It is too early to estimate the impact of intangibles on GAAP results from this transaction. As such, Symantec intends to discuss the impact, if any, on GAAP and non-GAAP results at some point in the future.
"Spam has increasingly become one of the most severe threats to individuals and enterprises today, topping viruses as the number one problem plaguing e-mail systems and administrators," said John W. Thompson, Symantec chairman and CEO. "Brightmail is the leader in helping enterprises, service providers, and wireless carriers mitigate this threat. Their patented technology is a critical component of a comprehensive gateway security solution."
"We've built a complete spam defense offering that includes multiple technologies such as proactive heuristic and reputation-based blocking for the most robust, multilayered defense, providing the highest accuracy rating in the industry," said Enrique Salem, Brightmail president and CEO. "By joining forces with Symantec, we can provide our combined base of customers around the world with the broadest messaging security solution in the industry."
Brightmail's anti-spam technology is designed to protect the networks of large corporations, service providers and wireless carriers by filtering spam, viruses and undesired messages at the Internet gateway. Brightmail Anti-Spam uses multiple proprietary technologies, a globally deployed detection network and a dynamic rule-delivery mechanism to identify and filter unsolicited or unwanted electronic messages while reducing the number of blocked false positives to less than one message in a million, according to the company.