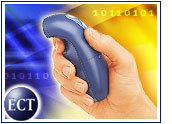 Still looking for the perfect gift for that special someone? If that person is a fan of technology, you might want to consider giving him or her one of the latest gadgets to hit the market. Many new products have been released this holiday season. To help you narrow the search, TechNewsWorld talked with several technology vendors to help spark some gift-giving ideas.
The most prevalent theme this season seems to be that expensive gadgetry is a thing of the past, with many vendors releasing gadgets that don't cost an arm and a leg. For example, for someone who likes to watch videos on the go, you might consider the ZVUE, a low-cost portable video player made by HandHeld Entertainment. It fits in the palm of your hand, plays videos and MP3s, and also will display digital pictures. The ZVUE retails for US$99.
"You can't get a decent MP3 player for that price, and the ZVUE plays MP3s and video," said Garrett Cecchini, executive vice president and founder of HandHeld Entertainment. "When was the last time new technology made a debut and it wasn't overpriced just because it was new?"
Here are a few more gadgets that are sure to pique the interest of anybody who loves technology.
More Is Better
If a friend or family member is running out of storage, consider giving an external storage device. Maxtor recently unveiled its newest line of external storage devices that can be used to back up MP3s, videos and just about anything else. The drives are available in capacities from 120 GB to 300 GB and are priced from $199.95 to $399.95.
Anna Jen, senior director of product marketing at Maxtor, told TechNewsWorld that the new drives are geared toward creative professionals, busy parents and others who need to back up important work easily. "OneTouch helps put people's minds at ease by allowing them to make critical backups with just the touch of a button," she said.
If you are looking for extra memory space, especially if size is an issue, PQI's Intelligent Stick might be a good option. The USB device is the length of two pennies and can hold up to 512 MB of data. It retails for $39, with higher-end models costing up to $129.99.
Louie Grijalva, vice president of development at PQI, told TechNewsWorld that many users will like the device's small size. Gamers, for example, can copy and save game files and then carry those saved files in a wallet. "This device is something out of a James Bond movie — made for the individual who considers small size an advantage," he said.
Think Wireless
To be able to type on all of the small PDAs currently on the market, Think Outside has designed the Stowaway Keyboard for PDAs running Palm or Pocket PC operating systems. One of the company's portable keyboards is even wireless: The Stowaway Infrared Wireless Keyboard is a full-size device that can connect to nearly any PDA through the infrared port. It retails for $69.95.
"We predict that it's going to be a very popular keyboard for the fast-growing population of Pocket PC users who want to get the most from their mobile computing equipment," Greg van den Dries, Think Outside's vice president of sales and marketing, told TechNewsWorld.
For those who love their gadgets to be wireless, Gyration sells a remote control that doubles as a mouse. The device is designed specifically to let home-computing enthusiasts control their PCs and entertainment systems remotely. It offers motion-sensing cursor control along with standard remote-control functions, and retails for $149.95.
"Its 100-foot radio frequency range lets it work through walls, and its motion-sensing technology translates simple wrist movements so you can use it in total comfort," Pete Rauholt, Gyration marketing manager, told TechNewsWorld, noting that the device can be used to access the Internet, TV, movies and music.
Alternative to Traditional Gifts
Finally, you might want to consider giving the tech lover in your life the iPen Mouse developed by FingerSystem. It works like a pen on most surfaces, but its secret weapon is that it uses optical-navigation technology, allowing the user to write naturally and then have his or her computer recognize the handwriting. It retails for $99.
The device also works in "mouse mode," so users do not have to switch to the mouse to click around the screen. While iPen is in writing mode, a user can write a comment, trace an image or sign a document. According to the company, people who are not accustomed to using a tablet or stylus can easily adapt to iPen to write complex symbols and diagrams.
"The iPen is a refreshing alternative to the traditional pen gift for business executives, students and anyone who takes notes. It's a fun stocking-stuffer for just about anyone on your list," Leonid Kitainik, general manager at third-party reseller Pen&Internet, told TechNewsWorld.