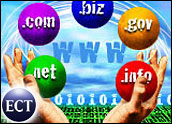 A group of major technology players has announced an initiative to get a top-level domain (TLD) — such as .com, .net and .org — specifically for mobile sites to bridge the Internet and mobile worlds.
Microsoft, Nokia, Vodafone, HP, Orange, Samsung, Sun and the GSM Association are applying for the mobile domain from the Internet Corporation for Assigned Names and Numbers (ICANN), claiming it would streamline deployment of new Internet sites and services optimized for mobile users.
"The creation of a mobile top-level domain would allow consumers to access the Internet in very different mobility scenarios, whether the access is provided by mobile operator, Internet service provider or various gateway devices at home or enterprise," said Nokia chief technology officer and senior vice president Pertti Korhonen. "The wide industry participation highlights the shared objective of offering seamless global access and interoperability of mobile services and applications."
Analysts were mixed on the need for the mobile TLD, but proponents said it will promote greater operating simplicity for mobile subscribers.
Gartner vice president Phil Redman questioned the approach. "Even the existing domains are not being used," Redman told TechNewsWorld, referring to .biz and other TLDs that are rarely used. "Should we have .bb for broadband or .dsl for DSL? It just doesn't really make sense. I don't think it's going to go very far to be honest. Even if they get it implemented, I don't think it will amount to much."
Ease of Use and Efficiency
Nevertheless, the tech heavyweights calling for the mobile TLD said it would simplify the Internet experience for mobile users while at the same time paving the way for faster delivery of mobile Internet services.
"We expect that by leveraging the technologies of the Internet, appropriately scaled for mobile scenarios, this initiative will provide the ease of use and efficiency that will significantly fuel mobile Internet usage," said Microsoft corporate vice president of the MSN Communication Platform Brian Arbogast.
Yankee Group analyst Adam Zawel said the effort, likely to be met with a lot of apathy from the rest of the industry, indicates the problems associated with mobile Internet use.
"On the one hand, it's an aggressive initiative," Zawel told TechNewsWorld. "On the other hand, it's a recognition of the limitations of the Internet. You can't simply convert Web pages and expect them to work over mobile devices."
Separating Mobility
Gartner's Redman said consumers and enterprise mobile users are not in search of mobile versions, but rather want mobility integrated into what they have now.
"I don't really think it is needed because I don't think you want to separate mobility out of existing applications," Redman said of the mobile TLD initiative. "You want to build mobile into what you're already doing. I don't see how a mobile TLD is really going to change that."
Redman also indicated there may be resistance to the plan from existing domain registrars, such as VeriSign. The mobile TLD group said it would form a registry company to manage distribution of the new mobile TLD names and would seek participation of additional members to ensure broad customer and industry input.
Piece of Usability Puzzle
Yankee's Zawel said it has taken the industry time to recognize the need to somehow integrate mobility and the Internet. The analyst viewed the mobility TLD also as a recognition that "wireless needs its own seat at the table."
For end users, Zawel said, the TLD initiative is unlikely to "be the move that simplifies everything," but he added that it might end up as a background component that plays into the mix of solutions that make a mobile Internet work.
"If this is going to be something big, there needs to be staying commitment, and it's only one piece of the big puzzle — usability," Zawel said.