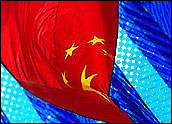 An international anticensorship group is calling on the biggest names in technology, including U.S. heavyweights Cisco, Microsoft, Intel, IBM and Sun Microsystems, to stand against the "repression of the Internet" by China's government. Despite commercial gains in what analysts describe as one of the most significant markets in the world — the country contains an exploding market of nearly 50 million Internet users — China remains an oppressive overseer of Internet use within its borders.
Search engine companies such as Google, AltaVista and Yahoo have addressed Chinese "filters" — more properly called "blockages" — by negotiating agreements that still allow search engines to reach Chinese users. However, those negotiations have led to charges that the U.S. Internet companies have been shanghaied by the Chinese government.
The latest call to action comes from Reporters Without Borders, a Paris-based media rights group that has accused the technology industry of ignoring the issue. Reporters Without Borders also has accused large companies like Yahoo of developing and facilitating spyware intended to track Chinese Internet users.
Supporting and Spying
Reporters Without Borders sent 14 letters to the heads of the world's largest technology companies with information on the Chinese government's latest efforts to "stifle freedom of expression" online.
"We are asking them to bear in mind the contents of the newsletter when making their business decisions," said Reporters Without Borders secretary-general Robert Menard in a statement.
The group claimed that some of the firms — based in North America, Europe, Japan and South Korea — were selling material "directly helping the government to spy on and crack down on people using the Internet." Other companies simply "closed their eyes to the situation," according to Reporters Without Borders.
Deals and Degrees
No one doubts the significance of the Chinese audience for computer, software, networking and other technology. The opportunity of the new market was recently highlighted in Sun Microsystems' deal for the China Standard Software Company — a government-driven consortium of Chinese technology companies — to use Sun's Java Desktop System as the foundation for standard desktop development and deployment in China.
Reporters Without Borders said its letter to the CEOs, which calls on tech companies to use their influence to force more Internet freedom, outlined the situation of Chinese censorship and noted "the degree of responsibility each has" in its relations with China.
"Cisco Systems supports special online spying systems, while Intel just sells its standard products," the group said. "Yahoo agreed to change its portal and search engine to facilitate censorship in exchange for access to the Chinese market, while South Korea's Samsung is simply selling its goods to a neighboring country."
Go To China
Some in the industry have expressed the opinion that Reporters Without Borders would be more effective at lobbying the Chinese government directly rather than the companies that are forced to comply with China's policies.
Indeed, Reporters Without Borders appears to have an especially adversarial view of Yahoo, stating that the company, and others like it, have "become Chinese police auxiliaries."
"After agreeing to self-censor their content, they have not objected to the installation of police spy software in their servers that enables the cyberpolice to identify recalcitrant Internet users," Reporters Without Borders said in a report earlier this year.
The group added that Chinese Internet cafes, or "wang ba," also have had to submit to the demands of China's "security services" in order to be able to reopen after a nationwide inspection campaign in 2002.