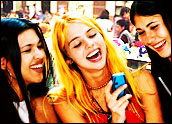 U.S. teenagers are sending or receiving an average of 3,339 text messages a month, more than six every hour they're awake, according to a study released Thursday by Nielsen. Teen girls aged 13 to 17 were the most-active users, receiving 4,050 texts per month. Teen boys outpaced other male age groups, receiving an average of 2,539 texts per month.
Young adults came in a distant second with 1,630 text messages per month. The company compiled its study using recent data from the monthly cellphone bills of more than 60,000 mobile subscribers, as well as survey data from more than 3,000 teens.
Much of this growth has exploded in just the past two years. A 2008 study by the Pew Internet & American Life Project found that only 38 percent of teens were texting daily.
Times Changing
A 2008 study by Nielsen put safety as the No. 1 reason for getting a cellphone, but texting has now displaced it as the top reason. The growth in texting has coincided with a slide in cellphone voice use by teens. Voice consumption has decreased 14 percent among teens over the past two years.
A hearty 94 percent of teen subscribers now identify themselves as advanced data users, turning to their cellphones for messaging, Internet, multimedia, gaming and downloads. Their data use has increased from 14 MB per month to 62 MB per month in just the last year. Much of the data boost is attributable to teen boys, who consume 75 MB of data per month compared with 17 MB per month last year.
Nielsen did not respond to TechNewsWorld's request for further information by press time.
Teen Fad?
One question that arises is whether this generation will give up its high-texting behavior as it leaves its teenage years behind.
"When you develop a behavior as a child, you will likely carry it into adulthood," Rob Enderle, principal analyst for the Enderle Group, told TechNewsWorld. "If that theory holds, the texting children will be texting adults, and we will be very thankful to Google for getting cars to drive themselves."
There may be further perils associated with the trend. When teens hit adulthood, their texting habits may clash with adult responsibilities.
"What they take into adulthood is habitual texting," Laura DiDio, principal analyst for ITIC, told TechNewsWorld. "If they're continuing to text on the job, it could have serious consequences."
Another potential hazard for high-texting teens is physical well-being.
"One of the things that's not talked about much — but it will be — is the cost of texting on the healthcare system," said DiDio. "Kids are texting so much, we'll soon see a rise in carpel tunnel syndrome and arthritic appendages. There are health consequences for any repetitive motion."
The Effect on Carriers
The skyrocketing use of texting may be a good thing for cellphone carriers. Unlike massive data use such as downloading, texting is a relatively mild form of data activity.
"Texting as a type of data is fairly light," noted Enderle. "It doesn't cost the carriers much, and they charge a premium that is more than their cost."
If kids switch from texting to video calls, however, that could change.
"The cost is high and the revenue is relatively low for richer forms of media," Enderle observed. "Same with video conferencing. The rich media use does terrible things to the network."
Carriers are likely to respond to the growing use of texting by competing for customers who no longer use their phones primarily for voice calls.
"The carriers will have to find new ways of serving this teen base," predicted DiDio. "They're going to have to offer more incentives for texting. We're morphing away from the original vision of Alexander Graham Bell."