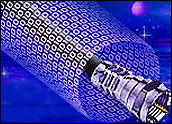 Finnish broadband technology provider Teleste is hailing anticipated speeds of its high-speed Internet service over cable television lines, which the company reportedly claims will hit the 100 megabit-per-second mark as early as next year.
Teleste, a maker of cable broadband components, said its technology would rely on existing TV networks and would boost cable broadband speeds more than 10 times, to as high as 100 Mbps and at least 30 Mbps.
Industry analysts said speeds are certain to improve from today's average 5 to 6 Mbps via cable modems, but some doubted the Teleste projections, particularly for use by consumers and corporations.
"I don't see it's going to hit 100 Mbps outside of a lab anytime soon," In-Stat senior analyst Mike Paxton told TechNewsWorld. "[Cable modems] will probably be up to 20 Mbps by early 2007."
Testing Technology
Nevertheless, Teleste Chief Executive Jukka Rinnevaara reportedly said the company will be testing the technology — the use of ethernet inside television cable lines — in the Netherlands, although at slower speeds initially.
Still, Rinnevaara stated that the minimum requirement for cable broadband speed will be 30 Mbps in future homes, with the faster speeds to follow.
While Teleste is reportedly hoping to provide its beefed-up bandwidth service with cable television providers by next year, it indicated that competitors — which include U.S. networking giant Cisco — are unlikely to have anything similar until mid-2007.
Competitive Challenge
Gartner research director Patti Reali told TechNewsWorld broadband cable speeds are on the increase and are achieving as high as 38 Mbps per channel. However, Reali also said that the biggest boost in cable broadband speed will come from the forthcoming Docsis 3.0 interface specification, an update to today's 2.0 version.
Reali said cable providers are being forced to respond to competition from DSL providers, who are attracting customers with somewhat slower speeds and strikingly lower prices.
The response from cable providers is to develop more speed, the analyst added, observing that technologies enhancing and deriving their speed from Docsis 2.0 are slowing the strategy.
"Although there's agreement on the spec, they still need to go through the process," Reali said. "They need those [Docsis 3.0] chipsets to be widely available, and that's not happening until the end of the year or in 2006."
Need for Speed
In addition to the competition from DSL, cable-based television and Internet services are also facing a need for more bandwidth and speed from new technologies, such as high-definition video and graphics.
Fortunately for cable companies, cable is better equipped to handle the latest programming and thus push speeds higher, though perhaps not as high as Teleste has indicated, In-Stat's Paxton said.
The analyst added that, despite technologies such as satellite, fixed wireless and WiMAX, DSL is the only technology truly competing with cable broadband. Even so, the race may already be won.
"In terms of networks, DSL delivery and equipment can't match the speed of cable," Paxton said.