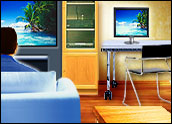 Bill Gates' US$135 million home outside Seattle is said to be networked to the nines, with Gates able to use his PC to control most of the houses' functions from afar.
Gates' company, Microsoft, meanwhile, is just one of many promising to make homes "smarter" and more connected in the future.
At January's Consumer Electronics Show (CES) in Las Vegas, Gates unveiled the Windows Home Server as one step in what Gates acknowledges is a long-range effort to insert Microsoft into the nascent home networking arena.
Gates may have the most expensive networked home but he's far from alone. Millions are choosing to build smart homes from scratch each year, while many others are adding networking features to their existing homes.
For example, home-builder Lennar recently began offering a networked home option for buyers.
From the living room, where the PC is capable of becoming an entertainment hub, to the basement, where a central computer can control heating and air conditioning; then, into the kitchen, where smart cabinets can help a would-be chef find the right ingredients, the system pervades the entire home.
"Every year, more things get integrated," Marc Resnick, director of the Institute for Technology Innovation at Florida International University, told the E-Commerce Times. "It's not as though we woke up one day and everything's connected. It's a steady progression."
As with anything new, uncertainty goes hand-in-hand with all of this new connectedness.
Consider the home owner who lies awake at night worrying about the potential flaws — infrastructural, security-wise and otherwise — in his home network. Will the toaster misread a command from the network server and wipe out his hard drive?
You Might Buy Too Soon
The smart-home technology space is evolving so rapidly that one potential risk is locking in a solution that might not be so good in the long term; namely, how does one choose the market leader for tomorrow's technology today?
The recent CES highlighted an entire new wave of home-network products, and the AppleTV device was debuted around the same time.
As with any rapidly evolving technological niche, early adopters run the risk of embracing brands or technologies that ultimately will not stand the test of time. Fortunately, the solution providers in this emerging space are the established wireless and wireline network vendors. At the very least, they use widely recognized standards, which will minimize risk.
In addition, technology firms are working on ways to update those networks on the fly, just as PCs can now download updates to their operating systems and security software.
The security and content issues raised by networked homes are creating plenty of opportunities, and firms are eager to address them, said William Dunbar, managing director with venture capital firm Core Capital Partners.
"The security angle, the fact that all these devices are suddenly more like computers than TVs or appliances, creates an opportunity," he said.
For example, Core Capital has invested in Update Logic, which produces software that lets digital TV sets download software updates and new features from the manufacturer via the Internet, much the way a PC can update its software automatically.
"It helps solve that problem of having technology go out of date," Dunbar told the E-Commerce Times. "Because they'll be connected to the Internet or to networks, digital TVs will act much more like computers."
Early adopters in the home aren't the only ones who might get burned. One of the first purely smart-home firms, Home Director, is now growing rapidly again, but only after emerging from bankruptcy last year.
You Might Go Broke
Early adopters are used to paying high prices. To some extent, it comes with the territory. Building or retrofitting a smart home can be an expensive proposition, however, with both obvious and hidden costs to consider.
In addition to the latest tech gear, a truly networked home will need specialty appliances, thermostats and other controls that can "see" the home network and "talk" to it. In most cases, special expertise may be required to complete a successful installation.
Most new homes are being wired with category 5 or similar cabling, but older homes might need to be re-wired not just for connectivity but also to maintain a steady flow of electricity to run a smart house.
Also, to get that true movie-theater effect from your in-home entertainment system, you'll probably want a projection screen that lowers from the ceiling and automatic window blinds that will adequately darken the media room.
Before long, you'll probably realize that the furniture in the media room is inadequate, leading you to visit one of a growing number of home-theater furniture showrooms — where movie-theater seats and gaming chairs beckon.
Costs vary dramatically — so much so that vendors are reluctant to give blanket price quotes. General Electric, for instance, is marketing low-voltage smart home systems that can run up to $40,000 for the basic networking cabling, routers and controls for a new home — all that before any tech gadgets or appliances are bought.
So, do you still want a home network?
You Might Get Hacked
"Security is an issue," said Resnick. "The vendors often downplay it a little bit. They say it's all encrypted, so you don't have to worry about it. But the user is always the short part of the string. They still use their dog's name as their password and no matter how much encryption there is you can't go in and encrypt people into doing the right thing."
Any Internet-facing network can be hacked, of course, but as Resnick notes, a hacker needs motivation. So, unless you have a hacker who has a personal vendetta against you, your network is likely safe even if it's not as secure as it could be.
"Hackers break into a bank network because they can steal money or a government database to get people's info, but what's their motivation for breaking into your home network?" Resnick asked.
"While some hackers are interested only in gaining notoriety," he added, they don't get a lot of street credibility for breaking into a neighbor's system and turning on his lights in the middle of the night.
In the meantime, basic encryption of wireless networks is a must, and many home-network vendors insist that users who want remote access to their homes should use static IP addresses in their networks, which will ensure that the network remains locked down when they're not around.
You Might Forget to Turn Down the Thermostat
Over-reliance on technology has been a constant refrain of Luddites and technology doomsayers for decades, but even realists have to recognize that central control can escalate quickly into "central chaos."
Smart kitchens now feature networked cabinets that can be connected to recipe programs on a PC. When an ingredient is needed or a certain pan called for in the recipe, the cabinet where it's stored can light up, Resnick noted.
Most such systems have default settings or fallback programs, of course, but relying on a central computer to do too much can be a recipe for trouble. Still, most observers say the trend is unmistakable — we're marching toward a future in which our homes, offices and even cars can become part of each person's or family's "web," combining lifestyle, technology and information.
"Problems mean opportunities for those who can find solutions," noted Dunbar. "Startups are tackling these issues and finding ways around them."