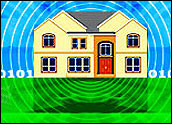 The networked home — complete with "smart" appliances and a range of security and entertainment options — is becoming increasingly common.
Many new homes come equipped with centrally controlled entertainment, security and climate systems, and more existing homes are being retrofitted with home theaters and music systems that can, for example, pipe sounds from an iPod to any room at any time.
Finding the Gotchas
The market for home networking and connected entertainment devices is on pace to grow from US$14 billion in 2005 to more than $85 billion by 2011, according to ABI Research Principal Analyst Michael Wolf. "This market has reached a major turning point," he said.
Among those with networked homes, implementation and maintenance issues are starting to form. Part 1 of this two-part series discussed overall expense, safety and other top-line concerns such as the security of wireless networks.
Homeowners who decide to go the smart home route should be aware of other potential pitfalls.
You Might Suffer From Gadget Overload
Back in the days of audio high fidelity, cutting-edge music aficionados could be identified by the massive stack of tuners, mixers, receivers and other sound equipment dominating their living rooms.
Today, a home networking gadget freak might covet an equally impressive array of devices, from TiVos to set-top boxes, iPods to satellite radio receivers, standalone hard drives, smart remotes and PC-to-TV devices.
In addition, as the multimedia landscape changes frequently, consumers can't always count on the next big thing being available when they're ready to buy it — a point driven home recently when Apple announced it would delay the availability of its Apple TV set-top box.
You Might Need Professional Help
Sixty percent of homebuilders hired a custom technology installer, about the same number that hired security experts, according to the Consumer Electronics Association (CEA).
The data shows such home-technology experts are developing a much sought-after trade similar to that of electricians and plumbers, said Joe Bates, CEA's director of research. Still, the pool of truly expert smart home installers is relatively shallow.
"Consumers are increasingly asking for installed technologies, whether it's for a home theater room or an intricate home network complete with servers and structured wiring," said Bates. "Clearly, builders, contractors and consumers believe that these offerings are no longer just the wave of the future but a reality."
To help give consumers more confidence in this pool of experts, the CEA recently linked up with the Computing Technology Industry Association (CompTIA) to create the Digital Home Technology Integrator plus certification.
Technicians who receive the CEA-CompTIA certification will have demonstrated the "knowledge and skills to configure, integrate, maintain, troubleshoot and comprehend the basic design concepts of electronic and digital home systems," according to CompTIA.
You Might Run Out of Content
Imagine a lightning-fast server in your living room, capable of storing a couple terabytes worth of data, HD TV at the ready, networked stereos throughout the house — and it is only as good as the content you can play on it.
With digital rights management (DRM) technology limiting how much music and video can be shared and copied, the home network could be all dressed up with storage, cabling and high-def everything … but with no place to go.
In a home outfitted with networking solutions such as Microsoft's Windows Media Server or the proposed Apple TV system, PC-like devices could transfer content to various devices, from, say, an Xbox to TV sets and stereo systems in various rooms. However, all of that connectivity won't do much good without some content to send down the pipe.
Apple CEO Steve Jobs' recent pleas to the music industry to undo DRM protection on content — and the resounding "no" that came back from major record labels — illustrates the challenge of getting the recording and movie industries to agree with hardware and software makers on how much to let users share, back-up or beam their content.
"That's definitely slowing down the growth of smart homes on the digital media side," said Marc Resnick, director of the Institute for Technology Innovation at Florida International University. "People don't want to invest in the equipment if they're not going to be able to play with the content."
You Might Run Out of Storage Space
By now, the Apples of the world have shown us just how much compressed digital music can fit on the head of a pin but, storage-wise, video is another animal altogether. Even when compressed, video is a hard disk space hog when compared to data, photos and even music.
If the video in question is stored in high-definition format, you will need oodles of storage.
One-terabyte storage devices — which actually equal two 500 GB drives in a single package — have been available for more than two years. Within the past several months, Seagate, Sony and others have unveiled video-friendly, high-capacity storage devices in form factors reminiscent of old-fashioned VCRs.
These drives don't come cheap, though. Sony's first such device, a 1-terabyte drive available mainly in Japan, retails for around $5,000.
Before long, the Apple iPod will be available in a larger format capable of storing a terabyte of data, enabling it to become part of the networked home as well.
A terabyte of data is enough for a sizable movie collection, probably in the neighborhood of 300 movies or so, with room left over for music and photos. The problem? For many of the people who have tricked-out home networks, such limitations will cramp their style.
Before investing in a stack of terabyte storage drives, however, remember one of the benefits of the Internet: More content is available on-demand. Instead of turning your living room into a massive data storage closet, why not let the content owners do the storing for you?
You Might Not Be Compatible
What of the true smart house, in which appliances of all stripes are tied into a network and controlled from a central location?
Smart kitchen appliances and even cabinets are now available, though still found in a tiny percentage of homes, noted Resnick.
"The consumer needs to see the value and, right now, the value is in opening up the vault of content available for viewing and listening around the home," he said. "Eventually, people might want their refrigerators to order milk for them, but that's not at the top of the list."