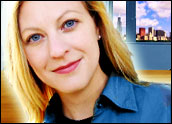 Personal computing altered the world forever, and now the digitization of biology is poised to bring about sweeping change. Craig Venter's recent announcement of the first synthetic genome was a huge milestone, but many outside of Silicon Valley remain unaware of the "do-it-yourself biology" movement (DIY bio).
This movement consists of smart engineers who like to tinker in garages, basements and living rooms, hacking the genetic codes of various organisms. Often, their goal is simple fun — to make cells blink, glow or smell like banana. Such pursuits are reminiscent of the beginnings of the PC revolution.
Back in the 1970s, it was the Homebrew Club that brought together clever thinkers — such as future Apple founders Steve Jobs and Steve Wozniak — to trade parts, circuits and information for DIY computing devices.
As Wozniak has recounted, "The Apple I and II were designed strictly on a hobby, for-fun basis, not to be a product for a company."
'Computing Was Very Hard'
Some have argued that biology is different from computing in that it is more complicated and harder to do because lab work is involved.
That idea is put forward by people who don't understand their history, according to Andrew Hessel, a synthetic biologist heavily involved in the movement.
"In the beginning, computing was very hard," he said.
Indeed, one's cellphone now packs more computing power than some of IBM's early computers that took up an entire room. Back then, it seemed like only big companies with extensive expertise and big budgets could work on computing. That's how many think about biology today, but that is set to change.
It might even be the case that the DIY bio community will have an easier time moving their field forward, since they have at least one huge advantage over the early computer hackers — the Internet.
Advances Accelerating
Information is easily available, as are the tools to share knowledge between enthusiasts around the world, so advances could happen faster. There is also a big competition called "iGEM" — the International Genetically Engineered Machine competition — that that serves to energize the community. Every year, it entices undergraduates to build biological systems.
This year, the group expects 180 teams and more than 1,800 participants to take part in performing "cutting edge research in a field that is continually evolving." However, barriers do exist.
Hessel has pointed out that the lack of standardization of bioparts and the cost of doing "wetware experiments" are two big issues, but smart people are working on those problems. The Biobrick initiative started by researchers at MIT, Harvard and UCSF, is an attempt to standardize chunks of genetic code that can be used as "parts," like a Lego set.
At least two organizations (Biofab at Stanford and Ginkgo in Boston) will take someone's biodesign and conduct the wetware experiment for them at a reasonable price, returning the data so the engineer can assess whether the idea worked.
Parijata Mackey, chief science officer at Humanity + and a member of the DIY Bio community, has pointed out that "hobbyist biology is still in its infancy."
She's right about that, but it may grow up faster than any of us expect. When it does, it will wield enormous economic clout and, hopefully, change our world for the better.
---
Sonia Arrison
, a TechNewsWorld columnist, is senior fellow in technology studies at the California-based
Pacific Research Institute
. Follow her on Twitter
@soniaarrison
.