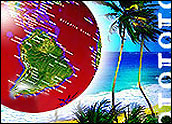 Cuba has activated an underwater cable that could alter the nation's Internet landscape — but its impact would be greater if the cable were turned on all the way.
The long-awaited cable is only facilitating incoming — not outgoing — Web traffic, according to Internet monitoring company Renesys.
This quirk was confirmed by Web-monitoring outfit CloudFlare and Swedish communications company NewCom, according to Ars Technica.
Announced in 2007, the cable was slated to open in 2009 and was touted as a way to link "Cuba directly to the global Internet," Renesys said. The cable wasn't live until Monday, however, when Renesys said it began detecting traffic traveling along the connection.
The one-way blockade is "either by design or misconfiguration," noted Renesys, adding that whatever the cause, Cubans still don't have "widespread public access to Internet service" — a well-documented problem for Cubans.
It is worth noting that Cuba activated the cable, however half-heartedly, right around the time that it lifted requirements for special permits to travel outside the country.
Spanish telecommunication giant Telefonica is involved in the cable project.
North Korea Loosens Foreigners' Mobile Phone Ban
It's a baby step, but a step all the same.
In a reversal of a years-old policy, North Korea will allow foreigners to bring their own mobile phones into the country, according to The Guardian.
Yes, calls between visitors and locals will still be prohibited; yes, only qualifying phones will be allowed; yes, foreigners must purchase and use domestic SIM cards.
But! It is still a move, however slight, in the direction of openness.
North Korean authorities have long forced visitors to fork over mobile phones, The Guardian reported, as "part of an exhaustive security check" designed to prevent whatever it is that totalitarian regimes are worried about.
North Korea's decision comes on the heels of Google Chairman Eric Schmidt'strip to North Korea. Schmidt went there on a "private humanitarian mission" with a delegation that included his daughter and former New Mexico governor Bill Richardson.
Schmidt implored North Korea to loosen its restrictions on Internet use, although the country hasn't yet said that the mobile phone amendments are a gesture to Schmidt.
Egyptian telecommunications company Orascom built a 3G network in North Korea four years ago, according to The Guardian. More than 1 million people use the network, which provides access to a state-run newspaper but not access to the World Wide Web.
Huawei Rises, ZTE Falls
Huawei Technologies, China's largest telecommunications maker — and America's largest telecommunications villain — said that it will consider an initial public offering, according to Bloomberg.
Monday's announcement came after the company posted sales that will likely put it ahead of rival Ericsson. Huawei also said that it expects sales to spike up to 12 percent this year after an 8 percent rise last year, to more than US$35 billion.
Meanwhile, ZTE, the other Chinese telecom that was targeted by the U.S. House Intelligence Committee's recent investigation, lost an estimated $400 million in 2012, according to Tech In Asia.
Dutch Architect to Push Boundaries of 3D Printers
Architect and Netherlands native Janjaap Ruijssenaars plans to construct a building using a 3D printer, according to the Los Angeles Times.
He will use a D-Shape printer that lays down thin layers of sand that, when combined with a bonding agent, create a material similar to marble.
The house will not be built all at once — if it gets built at all — but in chunks of about 20 feet by 30 feet, according to the Times.
It house will cost between $5 million and $6 million, the BBC reported, and hopefully will be printed — er, built — by the end of 2014.