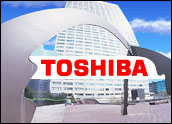 Toshiba kicked off its CES press conference by reminding the audience of the ad space it bought right underneath the ball at last week's New Year's Eve celebration in Times Square. Perhaps the company liked the idea of kissing 2008 good-bye — it was around this time a year ago that Warner Bros. decamped from Toshiba's HD-DVD format, and a month later HD-DVD crumbled completely. CES 2008 couldn't have been the happiest of times.
With no need to keep pushing high-def discs (that may be a blessing — Blu-ray hasn't exactly been a fast bloomer), Toshiba this time around has put its development efforts into its line of LCD TVs, especially the higher-end Regza models.
Internet-based content is also on the menu for 2009's Toshiba hardware. Networking devices lasso in platforms like Yahoo TV Widgets and Microsoft Windows Media Center to play content stored on the user's computer or coming in from the Web. The company plans to release both set-top boxes and TVs with these capabilities built in during the second half of 2009. TVs with USB and SD card slots are also coming.
Clearing the Picture
Consumers are cutting their spending, making it harder for high-end TVs to get traction, acknowledged Scott Ramirez, VP of marketing for Toshiba's TV group. Toshiba's still selling plenty of price-minded equipment, but bargain lines are rarely the products that get to taste new technologies first, so Ramirez dove right in to what's going on with Toshiba's pricier sets.
All Regza models include Resolution+ technology, which is designed to upscale all standard-definition content. Upscaling DVD players bring standard discs up to close-but-not-quite-high-definition quality; Resolution+ does that for other input — a TV channel coming through in SD, for example.
The line's AutoView feature has been enhanced to include color temperature settings. AutoView automatically tweaks the image's brightness, contrast, gamma and other factors, depending on the ambient lighting in the TV's surroundings. Also new is the InstaPort feature for instantaneous switching between HDMI inputs rather than the usual several-second wait.
Clearscan 240 is much like the TruScan technology LG talked about earlier in the morning. It flickers the TV's backlight at a very fast rate — too fast too perceive — in order to reduce the blur associated with fast-moving images. It's not technically 240 Hz, more of a "240 Hz effect," according to Ramirez.
Turn It Up, Turn It Down
Another image-enhancing technology, FocaLight, reduces the output of the LED backlights positioned behind darker areas of a given image, resulting in an improved contrast ratio.
Some Regza models will include Dolby Volume, which Toshiba says is a first for a television. It guards against inconsistent volume levels between channels, and between shows and commercials. It also maintains sound dynamics in terms of bass and treble.
Looking further ahead, in the second half of 2009, Toshiba plans Cell TV, a set-top box that will act as a picture cleaner, refining standard-definition images using Toshiba's Resolution+ technology. It's also network-connected for Web access and serves as a digital video recorder that can juggle up to six high-definition channels simultaneously.
All that image work will require a hefty processor, so Toshiba chose the Cell, the same chip found in Sony's PlayStation 3.