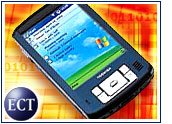 Touting hands-free capabilities — including voice recognition and audio playback of text documents — Toshiba has rolled out its newest Pocket PCs, the e400 and e800 series. The Japanese company's e800 series also now include voice over Internet protocol (VoIP) functionality.
Toshiba said the newest versions of its "thin-and-light value-priced" handhelds, priced at US$299 for the e400 and $599 for the VoIP-capable e800 series, allow users to access data by voice and hear text documents read to them via text-to-speech audio-playback software.
The new Pocket PC handhelds also feature brighter displays and added functionality that includes support for high VGA graphics on an ATI chip, which IDC analyst Alex Slawsby told TechNewsWorld is a first for the PDA form factor.
However, Slawsby said, this "first" is somewhat diminished by the fact that only a few applications can take advantage of the high VGA technology today. A more important feature, according to him, is the VoIP accompanied by 802.11 or WiFi wireless connectivity, which the analyst called "a natural companion" for PDAs.
"Now that more and more devices are coming to market with 802.11 or WiFi, VoIP is becoming a real buzz term and a hot concept for the business world," Slawsby said.
Cutting Cost of Calls
Toshiba said the VoIP capability — only available in the e800 series — will allow users to place phone calls over a high-speed wireless LAN network worldwide, reducing the cost of long-distance and international calls made over traditional phone systems.
The service is somewhat limited by the need for an Internet service provider and VoIP broadband telephony service, but the 800 series also delivers WiFi connectivity for access to VoIP through a wireless hotspot or corporate network.
Slawsby, who referred to Palm's similar move with the Tungsten C handheld, said that despite the need for "middleman" services to make VoIP calls, corporate users do see the feature as an added value.
Hands-Free Handheld
For both the less expensive, consumer-oriented e400 and the high-end, corporate-oriented e800 series, Toshiba has added voice command and text-to-speech software to help users open applications by speaking the words "contacts" or "calendar," among other voice commands.
The Pocket PCs' new text-to-speech application can audibly play back e-mail messages, schedules and other text.
"Toshiba understands that customers desire a personal lightweight data access device that not only keeps them connected to the corporate network, but also delivers on new technology that increases productivity and ease of use away from the office," said Toshiba Digital Products Division director of product marketing Carl Pinto.
Slawsby said the new features amount to "little upgrades and editions" to the Microsoft Windows PC software.
Wireless or Die
The current trend towared additional features in PDAs represents an effort by handheld makers to take advantage of wireless connectivity advances and keep up with mobile phones, according to Slawsby.
"Pretty much, the unconnected PDA is dead," he said. "If they don't [include Bluetooth or WiFi], they'll lose out to mobile phones, which are adding functionality."
Slawsby said it was key for Toshiba to include new features and a new style in its PDAs, which have suffered from lagging sales over the past several quarters. The analyst said Toshiba's new designs are an effort to invigorate its sales amid heavy competition from HP, newcomer Dell and others.
With mobile phones serving almost exclusively for voice communications, PDAs have a secondary position that diminishes their market potential, according to Slawsby, who added that handhelds still will not disappear completely.
"There will still be PDAs, but more often than not, they will be connected wirelessly to compete with mobile phones," he said.