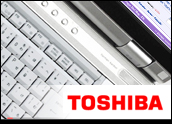 Electronics giant Toshiba this week announced new software that turns mobile phones into remote access controllers for PCs, allowing users to access the Internet and e-mail with a PC desktop displayed on a handset.
The software, dubbed "Ubiquitous Viewer," provides access to Windows computers and includes functionality for the Microsoft Office suite, e-mail, browse, and other PC applications via mobile phones, Toshiba said.
The company said the software, developed through collaboration among content and service providers, consists of a mobile phone menu that facilitates remote access and use of the PC. It uses advanced data compression technology for transfer of information between PC and phone and employs secure socket layer (SSL) encryption and one-time password to secure the connection between devices.
Possible, Problematic
Mobile device analysts indicated that the technical capabilities of mobile phones and increased bandwidth of mobile services is maturing to a point that such applications are possible. They also said, however, that a business model for such connectivity has yet to emerge.
"We're at the point now where network bandwidth and client devices — cell phones in this case — are at a technical level where you can access clients on a remote PC or other device," IDC analyst Alex Slawsby told TechNewsWorld. "The question is, what are the usage scenarios?"
Slawsby referred to similar solutions, such as Netopia's Timbuktu remote access software, and said there is value in the ability to access computers remotely, particularly for enterprise clients. Still, Slawsby said issues of cost and access fees from service providers are still constraints.
"Over time, as the resolution of mobile phone displays increases, and capabilities increase, it could become a window for activation [of PCs]," he said. "But there are still real-world concerns, such as cost and rates. The questions are, who is the target audience, how much will it cost and how well does it perform?"
Access Aim
Toshiba said enterprise users will be the target of Ubiquitous Viewer, which will debut on mobile phones with Japanese carrier KDDI's mobile service by the end of March. Toshiba added it plans to extend the service to other carriers around the world.
Ubiquitous Viewer will initially work with code division multiple access (CDMA1x) mobile phones that will reportedly include buttons configured for conversion to a QWERTY keyboard, providing cursor, shortcuts and other functionality from the phone.
Toshiba did not indicate the price of the software, which will be installed on both PCs and mobile phones to allow remote access.
Efficiency and Experience
Yankee Group analyst XJ Wang said viewing and accessing applications or even sending attachments remotely is an interesting and innovative idea. However, the analyst doubted that enterprise users could be as productive on a mobile phone as they are on PCs.
"The (mobile phone) keyboard is not efficient enough for anybody to do productive work," Wang told TechNewsWorld. "It's a good idea, but I'm kind of skeptical about what the achievement is."
Wang, who also highlighted difficulty in identifying a target market for Ubiquitous Viewer, said the Toshiba software and similar solutions center on user experience, which is still better on desktop and notebook PCs, devices that are also becoming increasingly mobile.
"The bandwidth is no longer an issue," Wang said. "I think the real challenge is user experience. When I have a long e-mail to write, I don't want to do it on my [handset]."