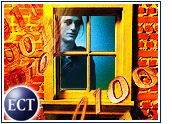 Folding spam and spyware filtering into its desktop security software, Trend Micro has updated its PC-cillin Internet Security 2004 package to ward off the Internet's other evils in addition to computer viruses and worms.
The Cupertino, California-based security company will be among the first to offer antivirus and spyware protection bundled in a single security package. The new software is designed to defend against the secret tracking programs — called spyware or adware — used by some software sellers and Internet sites to track user Internet activity or, in the worst cases, to provide backdoor access to user systems.
Trend Micro's PC-cillin Internet Security 2004, priced at US$50 with a year of product support, also is designed to protect home and small-business users from the same risks that plague large corporations — identity theft, credit card theft, malicious Web sites, viruses and spam.
Aberdeen Group vice president Jim Hurley told TechNewsWorld that Trend Micro's value proposition is its focus on identifying and blocking threats at the gateway, adding that the inclusion of spyware detection with antivirus makes sense.
"Essentially, antispyware does the same thing [as antivirus software] — it's identifying patterns and basically filtering," Hurley said. "What's different is what they're looking for."
Bad with the Good
Trend Micro said that with the increased capabilities of Internet access, e-mail and virtual private networking in addition to always-on Internet connections and remote-device access through notebooks and handheld computers, home and small-business users are dealing with increased complexity and security risks.
Calling it "a comprehensive, simplified solution," Trend Micro said its updated PC-cillin software now includes privacy protection to guard user passwords, bank account numbers and other personal information. The software also includes a personal firewall to protect users from intrusion.
"In the face of today's sophisticated network viruses, even home and small office users require complete security solutions with tight integration between antivirus, firewall and spyware detection features," said Trend Micro product group manager for consumer products Beau Roberts.
Anti-Spyware Included
While Trend Micro competitors Network Associates and Symantec do offer spyware detection in separate packages along with their antivirus software, Trend Micro is the first to offer the integrated antispyware, according to Hurley, who said it makes sense to merge the two defenses.
"From a customer perspective, none of the antivirus software detects whether you have spyware on your system," he said. "It makes it easier to deal with one supplier to handle both problems."
The analyst added that Trend Micro and Computer Associates — which is also planning an antivirus solution that includes spyware detection — have been the most aggressive in terms of bundling features together.
Silent Scourge
Hurley said that spyware — silent behind-the-scenes programs that often accompany specific software or come from Internet sites — ranges from being "sort of innocent" to making a user's system "easily exploitable."
"It's invisible," he said. "Unless you have a sniffer or a firewall, you have no idea what's going on [with spyware]."
Awareness of the spyware issue is growing rapidly among corporations and is "reaching a fever pitch" among the largest businesses, but consumers are not generally aware of the spyware on their systems that is capable of "boring holes in the system," according to Hurley.
Fusion of Security Fight
Hurley, who noted that the majority of Trend Micro's market share is in Japan and the Far East region, with some penetration in the United States, said he doubts that competitors such as Network Associates and Symantec will follow Trend's move to fold individual security packages together.
However, both of those companies have been using corporate acquisitions to become single sources for security needs, particularly in the enterprise market, Gartner vice president Richard Stiennon told TechNewsWorld.
Stiennon said that while companies are content to purchase "best-of-breed" security software from different vendors, the increased focus on all-in-one solutions could bring about a price war among the major players.