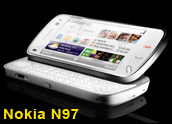 Nokia is gearing up to make moves in both hardware and software. Its next flagship phone, the N97, is gearing up for release in Europe in the first half of this year — though availability in the U.S. is still hazy. On the software side, the Symbian Foundation is scheduled to begin operations within the same time frame.
TechNewsWorld spoke with Ira Frimere, Nokia's multimedia product manager, about the direction in which smartphones and the software found on them are headed.
TechNewsWorld: Can you explain a little more about personalized widgets and how they work?
Ira Frimere:
On your homescreen, if you've seen the Nokia 5800, we've added a contacts bar. So basically it's a little area where you can keep a picture of one of your favorite contacts that you call most often. It's the ability to have information at your fingertips. It's utilizing the touchscreen, having direct access. So with this contacts bar, you can select a contact and quickly see when they called you, when you called them, if you exchanged text messages — it's almost a digital RSS feed regarding your conversations with that person. That's just what we implemented in the 5800.
If you expand that onto the Nokia N97, that's one kind of widget that you might see, the contacts widget. So imagine with a social networking site, you can have updates from some of your connections to see what they're up to. You might have a weather widget where it can show you in your region what the temperature is, what the three-day outlook might be. From a messaging standpoint, you might have a messaging widget, which would show you how many e-mails, how many unread SMSes you have. So it's the idea of bringing the most important information that you want to look at at a glance directly to the homescreen, and then at your fingertips you can drill in deeper to find out more detailed information and open the application.
TNW: So it's a lot like a dashboard on a regular PC's OS that hosts widgets on the front screen.
Frimere:
Right — the experience we're going for is the ability to quickly look at the information and give you an easy way to drill in for more detailed information if you choose to.
TNW: Are these widgets programmed by third parties like social networking sites? Does Facebook have to create a widget especially for the Nokia platform?
Frimere:
We have a division of Nokia called "Forum Nokia." That's our developer relationships division. Some of the widgets Nokia will develop and then put on the device by default, other widgets might be created with Nokia and third parties, other widgets might be solely from third parties. … Forum Nokia provides support and guidance as to how to get applications certified for the Symbian platform and how to get them to market quickly and with some assistance in some of the marketing of the applications as well. …
TNW: Any news on [N97] pricing and availability for the United States?
Frimere:
The N97 global launch will be before the end of the first half of '09, and our American availability will be soon after. As far as price goes, we've only announced the European price of the N97, and I have here pricing is 550 euros.
TNW: It appears that in the U.S., a lot of Nokia's higher-end phones don't sell in the same way as phones from other manufacturers. What I mean is, you often don't get a subsidy on the very high-end Nokia phones that you see. A Samsung phone or an LG high-end phone will get a subsidy. Why has Nokia chosen to go that direction in its United States marketing?
Frimere:
From an N-series perspective, we've decided to offer the devices unlocked. Nokia's mission is to offer a wider range of choices to the consumer — choices in hardware, choices in software, choices in services — are open so that consumers can use a Nokia device in a way that best suits them. So in the open channel — that's what we call it internally — we sell our unlocked devices through both independent national retail and online. So there are a lot of mom and pop electronics stores which will carry some Nokia unlocked devices, as do major retail outlets such as Best Buy. …
In North America, Nokia from our N-series perspective, we're making GSM devices. So the major operators in the U.S. that carry GMS devices are AT&T and T-Mobile. Both operators carry Nokia devices across the portfolio outside of N-series. By offering unlocked devices, you're giving consumers a choice. If they want to go to an operator and get a Nokia device that's perhaps subsidized by a contract, they have that choice, but if they want to go get a device that the operator may not have chosen to carry in their portfolio, they can do that as well. …
TNW: Looking ahead beyond the N97, can you tell me anything about new technologies that users might expect to find in smartphones in, say, a year or two?
Frimere:
From a public standpoint, we try not to speculate with respect to that. But from a trend perspective, the Nokia N97 is a mobile computer. So what it allows people to do is access the Internet in mobile ways that provide seamless connectivity whether it's WiFi or through your cellular data provider, access to the Internet quickly, easily with a full HTML browser, and convergence without sacrificing quality. So you have a 5-megapixel camera, you have GPS onboard, you have an MP3 player, you have a video recorder, you have video playback. It's the idea of having all these different features and functionalities and services all on one converged mobile device. We also are offering our suite of Nokia OVI [Internet] services. … If you look at those trends, that's going to continue.
TNW: You're talking about putting a lot of different devices or functionalities that used to be encompassed in different devices, like a phone, a camera, a media player — it's all coming into one object, which is the smartphone. Can you name any kind of object that hasn't really been drawn into the smartphone fold yet, at least not that you've seen, that you'd like to see sometime in the future? … What out there is not inside a smartphone that you would like to have in one?
Frimere:
There's nothing to comment on right now that I can provide other than if you look at what consumers are carrying around or what they're having trouble with, if we can potentially ease that trouble, ease that extra weight in their pocket, then that's something that would always be an option that we'll be looking at.
TNW: What about the wallet — do you see any future in mobile payments?
Frimere:
… As an industry, there are certain regions of the world that are exploring e-wallet transactions. Our Nokia research facility, NRC, they have some information about that on their Web site, I definitely would recommend checking that out. …
TNW: The Symbian Foundation, they're ramping up operations, supposed to begin doing a lot of stuff in the first half of this year. What do you hope to see them accomplish in their first six months of operation?
Frimere:
I think now that Nokia has purchased the entire Symbian organization, we just hope to see, as an organization, they're going to be able to move faster, a little lighter, and be able to get to market the solutions that consumers are looking for. It's going to open up the ability with open source to allow third-party developers quick access to new releases of software so that our suite of applications for both Nokia and third parties will meet consumers' requirements.
TNW: Are there any plans in the works to create some sort of centralized hub from which you sell and provide applications? There's the Android Marketplace, the Apple App Store — is anything like that coming for Symbian?
Frimere:
We've had our download client, and Nokia Downloads is actually a PC application already that we've had for quite some time. In the download application, you can find access to many third-party applications. … We're always looking to make improvements to all of our suites of services, download being one of those services that will see improvements over time as well.
TNW: It seems a lot of these app stores, with certain exceptions, are more about marketing the ability to download an application, whereas that ability really has existed for quite some time. It's more a matter of putting in a centralized location and giving it a name that people can remember. Is Symbian thinking about doing anything like that?
Frimere:
Awareness is important, so the Nokia Download application is on all of our open channel products. That's one way. And there are some other ways to get the word out, and our marketing team is working on that.