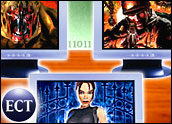 Turner Broadcasting System (TBS) figures if people like to watch classic movies and old "Seinfeld" episodes, they will also be interested in discontinued, out-of-date video games, including arcade and classic console hits.
The media giant, a division of Time Warner, said its GameTap games-on-demand system will launch with 300 games and eventually offer nearly 1,000 titles from 17 game publishers to offer broadband PC users gaming from the past. Turner said the service will launch in the fall and represents an effort to apply the company's cable television success to the gaming industry.
"Turner's lifeblood is creating branded networks and we are excited about the opportunity to create an immersive environment for games following our success with other branded environments like CNN, TCM and Cartoon network," said a statement from TBS president of domestic distribution Andrew Heller. "With GameTap, we are bringing to games what we brought to cable television: compelling, branded environments where beloved properties live on."
Games Buffet
The company that gave birth to 24 hour cable news said its approach represents a new way of looking at video games, which span from arcades, to old consoles, to PCs and new consoles and handheld devices. The company said the "all-you-can-play" subscription service — not officially priced but reportedly between US$10 and $20 per month — would consist of a software download that would act as a gateway to the game library.
TBS — which will also offer original programming that includes behind-the-scenes and background features — said because the games reside on the PC and not across a network, they act as they would on the console or at the arcade, with fast response times, 3D effects, colors and well known game characters.
"We're taking publishers' time-honored content and repackaging it for new and existing audiences," said TBS executive vice president of business development Dennis Quinn in a statement.
Parks Associates senior analyst Michael Cai told TechNewsWorld that Turner's GameTap is actually nothing new, pointing out that Yahoo has offered its games-on-demand service for years and that cable giant Comcast also provides a similar service.
"Yahoo's been a pioneer in that market and they've been doing it for years," he said.
Cai said it is yet unclear how Turner's new service, which came as a bit of a surprise to the industry, will be licensed — either with individual game publishers or through aggregators, which is how Yahoo and Comcast provide their services.
Family Fun
While hard core gamers place a higher value on ownership of games, the Turner subscription service may be successful with families, Cai said.
"For family gamers, it really makes a lot of sense," he told TechNewsWorld.
While he did point out similarities with other games-on-demand services, the analyst added Turner's announced catalog of almost 1,000 titles represents the largest for the genre.
"They are really focusing on back catalogued games," he said.
Tough Market in the Middle
Jupiter Research senior analyst Jay Horowitz said TBS enters a difficult, crowded market with its GameTap service, which lies in between the hard-core and casual game markets.
"TBS is treading dangerously into the middle," Horowitz told TechNewsWorld. "You start to tread on an area where there is already tough competition between companies that are struggling to get people to pay for these games."
While he said some companies have had success selling classic titles, Horowitz questioned whether 1,000 of them could be considered "timeless," adding that the games of yesterday often feel sluggish compared to what is available today.
"Often, the lasting appeal drains away as consumer expectations have risen and for those immersive games, the expectation does tend to rise," he said.