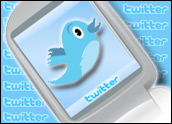 In what could be a prelude to censorship, the Turkish government has asked Twitter to establish a "representative office" in Turkey.
The government has hinted that it might ban Twitter if the company doesn't comply. Turkey did as much to YouTube, blocking the site for two years until last October, when Google opened a Turkish office.
Twitter has been a common meeting spot for Turkish protesters who since May have marched, assembled and boycotted against any number of causes, from freedom of the press to the preservation of the famed Gazi Park.
Social media like Twitter have been credited with turning the Turkish protests into a worldwide news story. The government, however, says it is concerned that without a corporate presence in Turkey, Twitter is unable to heed the country's requests to nix content or divulge user data.
Twitter has not officially responded, but The Guardian cites a "person familiar with the company's thinking" who said Twitter has no plans to open an office in Turkey.
Turkey has reportedly asked Twitter to reveal the identities of those who tweeted messages deemed offensive or inappropriate. It is not clear whether or not Twitter complied.
Turkey's prime minister, the divisive Tayyip Erdogan, has referred to sites like Twitter as a "scourge."
[Source: The Guardian]
Korean Doctors Warn of 'Digital Dementia'
Reports in South Korea warn of device-induced "digital dementia": an erosion of cognitive abilities caused by electronic devices.
Because of their embrace of digital technology, Koreans "may be the first to be afflicted by [the] most harmful side effects," according to the Korea Joongang Daily. Wireless broadband penetration is 104.2 per 100 people, while two-thirds of Koreans over 16 have smartphones — each the highest rate in the world.
Symptoms of the so-called digital dementia typically only occur following psychiatric illness or head injuries, but memory problems, attention disorders and "emotional flattening" among kids are blamed on being too wired.
The symptoms are not attributed to the broadband waves fluttering through the air, but rather online activities like surfing the Web and text messaging. Heavy users of smartphones and game devices are likely to develop the left side of their brain — responsible for rational, linear and fact-finding thinking — much more than the right side, which is responsible for intuition, imagination and emotion, according to a doctor at Seoul's Balance Brain Center. The right side's power of concentration is also compromised, according to research.
[Sources: Korea Joongang Daily via The Register]
EU Cuts Summertime Mobile Charges
Thanks to an order from the European Union, mobile roaming fees will be more than one-third cheaper starting Monday and continuing through the end of summer.
Mobile roaming fees have long been prohibitive in Europe. Since regulators began tackling the issue in 2007, there has been an 80 percent reduction in charges.
Croatia, which will join the EU on Monday, will experience a huge price plunge as it falls in line with EU regulations. Mobile Internet use in Croatia will be nearly 15 times cheaper, and text messages and voice calls to other EU countries will be 10 times cheaper.
[Source: Reuters]
For Now, Google to Continue Developer Payment in Argentina
Google has reversed — "for the time being" — its decision to stop supporting payments for Android developers in Argentina.
The move means developers can continue to offer paid apps and draw revenue from Google Play. Had it gone through, the change would have meant that developers registered in Argentina would be unable to receive revenue from the app store.
In September, PayPal announced that it would no longer support intra-country transactions in Argentina. It's possible that both PayPal and Google are reacting to Argentina's regulations regarding U.S. dollars.
[Source: The Next Web]