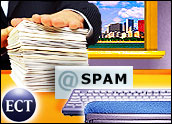 An alleged sender of unsolicited e-mail whose success earned him the title of "spam king" has been arrested in Virginia in what is being called the first felony prosecution of a spammer in the United States.
Virginia officials, who announced the arrest with AOL, MCI and UUNet — charged that Jeremy Jaynes, 29, also known as Jeremy James and Gaven Stubberfield, among other possible aliases — sent thousands of commercial messages through servers in Virginia and falsified transmission or routing information to mask the origin of the spam.
Virginia Attorney General's office spokesperson Carrie Cantrell told TechNewsWorld that the spamming used for prosecution — which included days of transmitting more than 10,000 messages and in excess of 100,000 over a three-day period last summer — is likely only a fraction of the total amount of spam generated by Jaynes, described as "the world's eighth-worst spam kingpin" in an office statement.
"This is the first time in the nation that there has been an arrest that's a felony for an individual accused of sending spam," Cantrell said. "This is a major player in the spam world who lived comfortably as a result."
Cantrell said Jaynes, of North Carolina, is facing as many as 20 years in prison and as much as US$10,000 in fines based on the Virginia law that prohibits the sending of unsolicited bulk e-mails by fraudulent means.
Faking Brings Felony
Virginia authorities, who claim their new spam law is the "toughest in the nation," said a grand jury indicted Jaynes on charges of falsification of information to prevent recipients from identifying or contacting the sender.
Cantrell told TechNewsWorld that Virginia Attorney General Jerry Kilgore's office also had been in touch with an alleged coconspirator, Richard Rutowski, who was scheduled to turn himself in to authorities. Jaynes and Rutowski, who faces the same possible penalties, each were indicted on four felony counts by a grand jury.
Cantrell added that on the basis of Virginia law, the fallen spam stars might face civil penalties. The state has the option to look into seizing their assets.
Busted by Button
AOL, which is vigorously pursuing civil litigation against more than a dozen individuals alleged to have spammed its Internet customers with nearly 1 billion unwanted messages, credited its users with helping to track down Jaynes and said they will benefit from the bust.
"Using the 'Report Spam' button, AOL members provided thousands of complaints that were used by the Commonwealth of Virginia to help investigate and indict the defendant," AOL said in a statement.
AOL deputy general counsel Curtis Lu said his company will continue to use the law of its home state of Virginia to catch and prosecute spammers.
"Spammers who use outlaw tactics of falsification may find themselves behind jail bars instead of computer screens," Lu said.
Spam Kings Slippery
Industry analysts describe two classes of spammers: those dabbling in mass-mailing solicitations and the so-called "spam kings" like Jaynes who are accused of reaping millions from untraceable spam.
An industry estimate this year indicated that fewer than 200 people are responsible for more than 90 percent of the spam sent across the globe. Gartner research director Maurene Caplan Grey told TechNewsWorld that catching the big fish might put a dent in the amount of spam hitting e-mail boxes, but there are likely plentiful opportunists waiting to fill in the gaps.
"The spam kings understand how to get around the system," Grey said, adding that large players typically are paid a percentage of product sales or a flat fee for sending millions of messages.
Meaty Battle
The Virginia indictments are the latest in an escalating battle between spammers and those trying to stem the flow of unwanted junk e-mail.
As recently as last week, attacks perpetrated by a computer virus called MiMail-L redirected compromised computers to inundate several antispam sites, including Spamhaus.org, SpamCop.net and the Spam Prevention Early Warning System at Spews.org.
While a big part of the fight to curtail spam centers on technology — an exploding industry for companies such as Message Labs, Postini, Brightmail and others — legislation at both the state and federal levels has dominated headlines recently.
Despite concerns that federal antispam legislation expected to be signed by President Bush — which bases its criminal component on the Virginia model — actually might weaken state laws by superseding them, Cantrell told TechNewsWorld that the Virginia law will stand.
"We do not believe that [the federal law] preempts Virginia's law because of the fraudulent means," Cantrell said, adding that the law is part of Virginia's computer crimes statute.