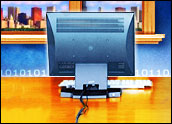 A mandated price cut in so-called local loop unbundling in the UK, a requirement for UK providers to offer broadband service, and an allowed price increase for wholesale broadband products has two sides arguing the move will either boost broadband adoption and competition, or kill off all but the biggest service providers.
Ofcom, the UK's regulatory Office of Communications, published its wholesale price proposals for "a competitive broadband market," but a group of more than 50 smaller, British ISPs known as the UK Internet Federation (UKIF) complain the new costs to them, which could rise as much as one-third, will put them out of business.
Frost and Sullivan senior analyst Mukul Krishna said that the pricing changes are likely to hurt smaller companies in the UK Internet market because they will be unable to absorb added cost and remain competitive.
"It's basically going to be a regulated price war by force," Krishna told TechNewsWorld. "And that is literally going to drive the small players out of the market."
Not a Surprise
Since Ofcom announced its proposal to increase broadband competition last May, the smaller British ISPs have been warning that a proposed setting of the margin for providing broadband would drive them out of business.
The UKIF claimed on its site that communications and consultation between Ofcom and the industry has been difficult, and last-minute efforts to reconsider the pricing changes left little doubt of the UK regulatory body's decision.
With reports of more than a quarter increase in the price to provide broadband services, the smaller ISPs reportedly claim that the Ofcom moves will create a noncompetitive market, benefiting only the largest UK providers such as BT, AOL UK and Wanadoo.
Quicker Competition
Ofcom said its pricing framework was designed to provide proper incentives and rewards for investment in delivering better broadband to more users.
"This will be particularly important for broadband networks providing always-on high speed Internet access to content-rich material, voice calls by VoIP and video on demand," the UK agency said in a statement.
In addition to the new "Margin between IPStream and ATM interconnection prices," British giant BT announced its own, voluntary set of phased price reductions for local loop services, some of which have already come into effect, according to Ofcom.
BT also announced its acceptance of Ofcom's proposal for an independent Telecommunications Adjudicator who would facilitate the industrial-scale provisioning of local loops to other operators.
"Collectively, this new pricing structure, the industry participation in the Adjudicator scheme, and BT's fresh approach have the potential to add up to a faster broadband roll-out for Britain," said Ofcom chief executive Stephen Carter in a statement.
At What Cost?
Some pointed to the pricing changes as a necessary step in bringing down unbundling costs in the UK, which had forced some companies to pay significantly higher fees to provide their own broadband subscriptions.
The move is, however, likely to favor the largest ISPs such as Cable & Wireless and Easynet, while the smaller ISPs suffer, according to analysts such as Krishna.
"From an economic perspective, a huge player can always take a price cut better because they can cushion themselves from the cost and get new market share," Krishna said.