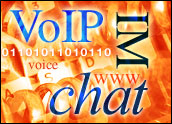 UK dialers will now be able to access a new set of Internet phone numbers designed to allow even greater growth of broadband voice communications. The move is likely to pump up competition with prominent providers there.
U.S. growth of Voice over Internet Protocol (VoIP) has caught on with improvements in both technology and strategy, but the developments in the United States pale in comparison to the UK market, where companies such as FastWeb have forced the competition to offer VoIP on top of broadband services.
"They're further along than we are for sure," Gartner analyst Deborah Kish told TechNewsWorld regarding the UK VoIP market, adding that despite aggressive pricing from Vonage, the U.S. market is still driven and limited by price.
New Numbers, New Calls for Brits
British telecom regulator Ofcom said its approach to VoIP and release of new telephone numbering for it was aimed at encouraging the services through reduced costs and increased competition.
"New voice services also offer consumers the prospect of innovative features currently the preserve of large corporations, such as sophisticated call handling and messaging, multiparty conference calls and video calls," Ofcom said in a statement.
The UK regulatory body said providers could now offer customers a geographic phone number beginning with "01" or "02," which will make it easier to switch from a traditional telephone service to a Voice over Broadband (VoB) service, the equivalent of VoIP.
Ofcom said providers also could offer customers a nongeographic number beginning with a new "056" code, which could be used anywhere in the country.
Regulatory Release
Ofcom also said it had begun a "public consultation" on the appropriate level of consumer-protection measures that should apply to new voice services, particularly compared to traditional, fixed-line voice service providers.
With the public consultation scheduled to close November 15, Ofcom indicated it will be continuing a light regulatory approach to the new voice services.
"Broadband voice services are a new and emerging market," said Ofcom chief executive Stephen Carter in a statement. "Our first task as regulator is to keep out of the way. As the market develops, we will ensure that consumers are appropriately informed and protected," Carter added.
Fast Push Forward
Gartner's Kish said the European growth of VoIP has been faster than the U.S. in large part because of major players such as FastWeb, which are forcing competitors into the now-attractive market.
"They've really taken off hugely," Kish said. "They're driving other carriers to get [VoIP technology] and IP backbones."
While Italy was the first European nation to "go all IP" with its telephone service some time ago, all of Europe is ahead of the U.S. when it comes to VoIP, according to Kish.
Dribs and Drabs
In contrast to the widespread broadband and VoIP growth in Europe, the U.S. has seen VoIP arrive, but only in "dribs and drabs," Kish said.
"It still has its limitations," she said, referring to price as the biggest driver of the new telephone technology.
Kish said that while Vonage has rolled out aggressive pricing in the United States, the North American market is still hampered by some quality issues and other integration problems, such as security systems connected by traditional phone lines.