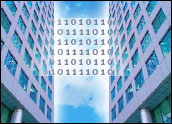 In a battle to establish a de facto standard, is it better to deliver technology first or to have the greater number of supporters? The emergence of ultrawideband (UWB) products, which allow a wide variety of PC and consumer electronics devices to exchange information over high-speed wireless networks, may provide an answer to that question.
Thwarted in their attempts to craft a compromise specification as an Institute of Electrical and Electronics Engineers (IEEE) standard, vendors have broken into two warring camps. On one side is a group lead by Freescale Inc., which was spun off from Motorola earlier this month. This group is promoting an approach called direct sequence signaling.
The competing specification is multiband orthogonal frequency division multiplexing. This approach has been endorsed by 170 companies.
Get the Picture?
Both options promise to support low-cost wireless connectivity at speeds from 400 Mbps to potentially 1 Gbps, 10 to 20 times faster than current techniques, at distances up to 10 meters. Eventually, set-top boxes, flat-panel digital displays, digital cameras and camcorders, DVD players, digital video recorders, stereo components and speakers, wireless home-theater systems, cell phones, and PCs could use the UWB standard to exchange information.
In addition, UWB is being designed to connect high-speed PC peripherals like hard disks, mice and displays as well as an array of devices being attached to televisions.
One of the main factors driving the development of a UWB standard is video, according to Joyce Putscher, director at In-Stat/MDR. "Video has become a major force in consumer electronics," she said. The bandwith-intensive nature of this medium means consumers and businesses need high-speed wireless networks to support it.
Convenience is another consideration. "Businesses and consumers have found that properly connecting the hodgepodge of cables currently found in computers and consumer electronics devices like their television is a complex, confusing process," said Kurt Scherf, a vice president with market research firm Parks Associates. "Wireless links promise to simplify that task, and such convenience has been one reason why cell phones and wireless LANs have become so popular."
Money and Politics
Two years ago, after gaining insight into the emerging requirements, vendors began outlining different ways to enhance wireless connections. The MultiBand OFDM Alliance (MBOA) outlined its approach in May 2003 and brought it to the IEEE. For a standard to be approved, 75 percent of the companies working on the specification must endorse it. The MBOA garnered only 58 percent of the vote and decided to give up its attempt to gain an IEEE stamp of approval.
The differences of opinion centered on the potential for interference from other types of radio users; the cost and the complexity of the chips required to support OFDM; and how much power compliant devices would consume. But non-technical factors may have also played a role in preventing companies from reaching an agreement. "Money from various licensing techniques as well as the egos of executives at different firms were at stake," said Parks Associates' Scherf.
Since then, the two camps have been trying to garner support for their favored specs. So far, Freescale is ahead in the race to deliver compliant products. "Motorola bought a start-up company that had been working on UWB products, and found it relatively easy to get a product to market quickly," In-Stat's Putscher told TechNewsWorld.
The chip company announced its work in 2002 and began conducting interoperability testing in the summer of 2004, with an eye to delivering compliant products in early 2005.
Nevertheless, the Freescale initiative has garnered only limited third-party acceptance. Global Sun Technology and GemTech Technology Co. are among a handful of supporters.
MBOA advocates have a done better job of working together. Its membership rolls swelled to include Agere Systems, Intel, Seiko Epson and WiLinx. While the work has garnered broad-based support, OFDM is only a specification now. The companies are still working on completing the standard, and conformance testing is not expected to begin until the summer at the earliest. New systems are not expected to be complete until 2006.
Point-to-Point
As UWB products make their way to market, analysts expect their first applications to be for point-to-point connections, such as moving information between PCs and home entertainment devices such as televisions. Eventually, point-to-multipoint functions will enable all devices in a home to be connected wirelessly. Analysts expect UWB chipsets to become more integrated, their prices to fall, and their functions to be incorporated in a wider array of devices.
Still, UWB could lose the opportunity to become a mass-market wireless connectivity initiative unless the standard dispute is resolved.
"A universal standard is particularly critical to large consumer electronics and PC vendors, who are seeking a wireless solution that meets their needs across platforms and requirements," Parks Associate's Scherf told TechNewsWorld. "If you've looked at all previous technologies, one clear standard has always emerged. That should be the case with ultrawideband, but at the moment, no one is sure which of the two options that will be."