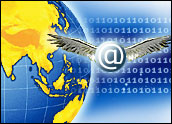 Following issues such as world hunger and global warming, the rising volume of unwanted e-mail is now among the problems that are being dealt with on an international level as officials with the United Nations and International Telecommunications Union (ITU) called spam "an epidemic" at a conference in Geneva, Switzerland this week.
Echoing the warnings from the computer industry, world leaders indicated that international cooperation is the only way to combat the sometimes pornographic, unsolicited messages that are repelling users from e-mail and the Internet.
The united spam fight materialized earlier this month with a memorandum of understanding (MOU) among the United States, the UK and Australia that will synergize enforcement, investigation and solutions to spam, but the Geneva meeting involved 60 countries, including some that are blamed for harboring spammers and their servers.
"It certainly is a hot topic in Geneva with 60 countries and spam pretty high on the agenda," Message Labs information security analyst Natasha Staley told TechNewsWorld. "Yet the MOU only involves three countries. It's certainly a step in the right direction, but I think there's certainly still a long way to go."
World Issue
The Geneva event highlighted what many analysts and critics of U.S. legislative efforts have blamed for much of the spam problem — the inability to prosecute spammers based in nations without antispam laws.
"The fact that the ITU is bringing together 60 countries is a signal of recognition that spam is not a localized issue — it's a global issue," Basex chief analyst Jonathan Spira told TechNewsWorld. "The Internet has no borders."
Spira, whose firm blames spam for US$20 billion in lost productivity and other costs, said international cooperation is necessary in the face of nations with nonexistent or weak antispam laws.
"It is still exceedingly difficult to prosecute across a border where a country doesn't have laws [against spam]," Spira said. "There are so many countries without any spam laws."
Global Trio
The joint effort of the United States, the UK and Australia to fight spam will mean for the first time that authorities from all three nations will work together to investigate spammers in their countries.
The three nations also will take part in joint, antispam training initiatives and work on strengthening their ability to trace and convict spammers with cross-border enforcement.
"It's not going to solve spam overnight, but it is going to help," said Australian Communications Minister Stephen Timms in a statement. "It reinforces our determination to tackle spam with a combination of government and industry initiatives, technical solutions and user awareness."
World Peace
Spira, who said that the majority of spam is probably coming from fewer than 500 individuals around the globe, said that any effort to stamp out spam will take a long time "because all you need is one country not towing the line."
Maurene Caplan Grey, a research director with Gartner, agreed, telling TechNewsWorld that legislation and government action represent only band-aid attempts to stop spam.
"It's a good action, conceptually," Caplan Grey said of the ITU and UN antispam initiatives. "In reality, we give it a very low probability of bearing fruit. This is kind of like achieving world peace."