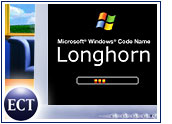 Hoping to steer its next-generation Windows operating system — code-named Longhorn — into the developer community, Microsoft has released previews of the software.
The actual Longhorn operating system, the company's next-generation SQL Server known as Yukon and the company's next-generation development tools code-named Whidbey are as many as two to three years from arriving, but Microsoft's Professional Developers Conference (PDC) in Los Angeles this week represents a key moment as the software company seeks to win and maintain support from Web and corporate developers.
The most important developers — from Microsoft's perspective — are the independent software vendors (ISVs) that ultimately will determine the success of the next Windows platform by creating the next generation of enterprise and consumer applications for it, Yankee Group senior analyst Dana Gardner told TechNewsWorld.
"Microsoft's been working toward this for some time," Gardner said of Microsoft's Longhorn and the company's future plans for Web services. "It's time for the rubber to hit the road."
Fresh Interface
One of the most talked-about aspects of Longhorn is its use of the Windows Future Store, or WinFS, which exists as a layer atop NTFS for enabling SQL-type queries of data on the local file system. This capability will, according to Microsoft, allow users to perform broad and detailed searches for data on their systems in ways that are not possible in current Windows systems.
Longhorn will ship with schemas for organizing certain types of data, such as contacts, documents and pictures, and developers will be able to extend this capability for other sorts of applications and data. Windows Explorer has been reworked in Longhorn to expose the benefits of WinFS, ordering files by context as well as by location and offering much more metadata for initial viewing than in Windows XP.
In addition, Internet Explorer has a slimmer look now. The version of IE included with the Longhorn preview offers pop-up blocking and a download manager, which are both firsts for IE. (The tabbed browsing that distinguishes Safari and Mozilla, among other browsers, remains absent, however.)
Longhorn sports a new look that's powered by Microsoft's Avalon, a presentation system that brings hardware-accelerated, vector-based graphics to the standard Windows interface.
Windows Waves
As his company released thousands of preview copies of Longhorn so developers can test these new features and build applications for them, Microsoft chairman and chief software architect Bill Gates highlighted how Microsoft's integrated platform approach — Whidbey tools, Yukon server, Longhorn operating system and "smart" device software — provides the foundation for a "next wave of innovation."
Also at the conference, Microsoft platforms group vice president Jim Allchin introduced the application programming model for Longhorn — called WinFX — and new Windows platform technologies for developers, including the Avalon graphics subsystem and the communications technologies for the Web services that Gates talked about.
Yankee's Gardner said ISV developers likely will be "really trying to determine from Microsoft how real this Web services-oriented architecture is."
Departure from Old Code
Analysts have suspected that Longhorn will be a significant security departure from the Windows code of the past, with significant improvements made to stability and access technology. Meta Group vice president Steve Kleynhans told TechNewsWorld that Longhorn will center on a handful of key areas, such as security, the interface and file-storage technology.
Kleynhans said Microsoft faces a difficult task in moving away from older technologies, while at the same time running the risk of making older applications incompatible with the new system or confusing users.
Gardner said that although Microsoft is selling its Visual Studio .NET developer platform as an "integrated stack" that will enable developers to create applications that run better at less cost, the company also is talking about "taking Web services to transactional computing."
"It's not opposed, but these are somewhat incongruent directions," he said, adding that developers and CTOs are wondering how interoperable Microsoft's future components really will be. It appears Microsoft is saying interoperability is good to a point after which development should be all Windows, but that point has yet to be determined, according to Gardner.
Grand Unification
Citing hardware advances and new tools, Gates told PDC attendees that it is an exciting time to be a software developer, referring to Microsoft's heavy investment in making Windows an optimal platform.
Gardner said that although some might be frustrated that Microsoft is talking about its next generation of software before it has even implemented the most recent Office 2003 release, the ISVs must look ahead and perform cost-benefit analysis of the new Longhorn platform.
"Part of that rush is part of the grand unification process, where Microsoft brings together common frameworks, specifications, standards and [application programming interfaces]," he said. "Developers are going to have to get a sense of how good for me is it to align my data on Microsoft's store."