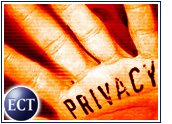 A report from a group of Internet experts indicates a U.S. anticensorship Internet access program is employing keyword filtering for the foreign Web surfers it serves, resulting in overblocking, which many argue is a form of censorship in itself.
What may be worse is that the U.S. International Broadcasting Bureau service's lack of security may leave Iranian or possibly other foreign users open to government monitoring, which in some places could lead to prosecution and punishment.
"The most troubling aspect of the findings regarding the IBB Anonymizer service, in my opinion, is the insecurity of the system," said Ronald Deibert, co-author of an advisory on the matter and director of The Citizen Lab at the University of Toronto.
"As we found in our research, the IBB Anonymizer service promises that Iranians can surf the Web freely and securely, but in fact the traffic is exposed to potential monitoring by Iranian authorities and ISPs," Deibert told TechNewsWorld. "More troubling is that the Anonymizer offers a premium service for paying customers that would enhance security, and yet it is not offered to Iranians through the IBB-sponsored version.
"Less troubling, but still of concern, is the massive amount of unintended filtering of Internet content because of poorly constructed porn filters," Deibert added.
Collateral Blocking Compromise
Deibert and fellow experts researched the IBB's service, which is provided through San Diego-based Anonymizer. The research and subsequent advisory came from the OpenNet Initiative, a partnership of the University of Toronto's Munk Centre for International Studies' Citizen Lab, the Berkman Center for Internet & Society at Harvard Law School, and the Advanced Network Research Group at the Centre for Security in International Society at Cambridge University.
The researchers found that the service, which reportedly was blocking pornographic Web sites primarily because of bandwidth, overblocked a wide array of sites that included innocent words including "asian, pic, bush, my, old, soft, tv" and more in URLs. The service also blocked "gay," restricting access to sites including the word. Examples of the collateral effects are the inability to reach www.georgebush.com or www.arnold-schwarzenegger.com.
Electronic Privacy Information Center (EPIC) deputy counsel Chris Hoofnagle, whose pro-privacy organization's site was blocked because it has the word "pic" in the URL, expressed dismay at the blockage.
"There's a broad range of overinclusiveness," Hoofnagle told TechNewsWorld. "The idea's just to get the porn sites, and we're definitely not a porn site. We actually like to think of ourselves as being against pornography, so it's a little frustrating. That is the point of the antifiltering groups — that it's just replacing one form of censorship with another."
Growing Problem
Deibert, also an associate professor of political science at the University of Toronto, indicated that Internet censorship is a growing problem and that the vast majority of such measures occur "beneath the surface" without public accountability or scrutiny.
"The level and sophistication of Internet censorship and surveillance is increasing worldwide," Deibert said. "Five years ago, very few countries practiced Internet censorship extensively with sophistication. Today, dozens of countries around the world implement some form of content filtering with the assistance of commercial filtering products at levels ranging from Internet cafes to ISPs to international gateways."
Deibert argued that because of the Internet's importance in global communications and the potential to implement secretive content filtering and surveillance systems, academics, citizens and others across the globe must be diligent in monitoring the practices.
U.S. Tech at Work?
When asked how culpable U.S. government agencies and companies are in complying with or working with nations that censor their citizens' Internet activities, Deibert indicated both may be contributing to the problem.
"As our report shows, the U.S. government — through the IBB — supports freedom of speech in countries that censor but does so while adding content filters of its own," Deibert said. "Many U.S. companies produce software that filters content and enables surveillance and sell it to states — including nondemocratic states — that engage in such practices."
Deibert added, however, that the OpenNet Initiative is actively researching those connections and will release reports when the group is ready.
Taxpayer Tradeoff
Ken Berman, a government engineer and manager of the IBB's Internet anticensorship program, told TechNewsWorld that he decided the filtering was worth the price of collateral blocking.
"On the censorship issue, it was and is not our policy to filter and censor anything except hard-core porn," Berman said. "We do note the irony of an anticensorship site censoring something at all, but that is a discrepancy we can live with to preserve bandwidth — Anonymizer and others estimate more than 40 percent of Web traffic is porn-related — and since U.S. taxpayers are financing this program, to respect that there are legitimate limits that may be imposed."
Berman, who referred to the Internet access service as "kind of cutting edge," said the IBB is working with Anonymizer to edit the list of bad words, which no longer includes "bush" or "soft."
In response to concerns about exposing foreign Web users to surveillance or monitoring by their own government, Berman said the IBB program has never sought true anonymous browsing, only "secure and private browsing."