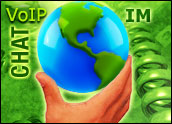 Providers of Voice over Internet Protocol (VoIP) services may get their way, preventing state governments from taxing or regulating them, if proposed U.S. federal legislation is approved. Parallel bills from Sen. John Sununu (R-New Hampshire) and Rep. Chip Pickering (R-Mississippi) could keep VoIP classified as an information service and free from state regulation.
VoIP is being used by both consumers and corporations to replace or integrate existing circuit-switch telephone network use. While there is a general consensus that VoIP should not be overly or heavily regulated, there are concerns that the Internet services might become too deregulated.
Gartner analyst Ron Cowles said he questions the need for the proposed legislation because the states are already precluded from oversight by the Federal Communications Commission (FCC), which is contemplating its own VoIP oversight.
"Honestly, I don't know what's really behind these," Cowles told TechNewsWorld. "Why would we want more laws on that kind of stuff?" The analyst answered his own question on the cause of the legislation — pointing out that "it's because of lobbying" — but still questioned the need for it.
Old Rules for New Tech
The legislation comes after a group of VoIP sellers lobbied the FCC, arguing that the technology, which economically replaces traditional telephone communications, should not be regulated in the same way telephone services are.
"VoIP is not another flavor of telephone service," said Intel communications policy director Peter Pitshch, whose company is among Voice on the Net (VON) members AT&T, MCI, Texas Instruments and other VoIP providers. "It's a new frontier in communications for individuals and businesses alike, and it requires forward-thinking regulatory approaches."
At the heart of the VoIP industry's resistance to regulation and the opposing call for the companies to pay their fair share are access fees traditionally charged for use of local exchange networks, on which VoIP sometimes relies.
Paying Fair Share
Despite contentions from the growing VoIP industry, Yankee Group senior analyst Zeus Kerravala told TechNewsWorld that VoIP is indeed another flavor of telephone service because people still talk to one another, even if the technology travels over IP.
Kerravala, who said VoIP and the traditional telephone network rely on one another's infrastructure, also said a lack of regulation and the absence of a requirement to pay local access fees could hurt telecom and the economy.
"I think it has a much broader impact on the economy than someone making a call for a few cents cheaper," he said. "[VON] can argue that the competition is good, but telecom is so precariously unhealthy, any more doses of bad health could cripple it."
Complying Anyway
Gartner's Cowles — who said he believes only in limited, necessary legislation — warned that however well intentioned, legislation has a tendency to come back to haunt industry and its regulators, particularly with technology. He added that there is probably no need for the federal legislation being proposed, though he indicated there may need to be some requirements for VoIP providers.
"If they're imposing costs on someone else, they should have to pay," Cowles said. "We shouldn't impose a law [exempting] that, even if it's a nascent service."
Meanwhile, the proposed legislation also would free VoIP providers of surveillance requirements to allow law enforcement to monitor and collect information on their networks when warranted.
Yet security vendor VeriSign announced Monday that it is working with cable giant Cox Communications to use VeriSign's NetDiscovery services, which are aimed at ensuring Cox's VoIP services comply with the federal Communications Assistance for Law Enforcement Act (CALEA). VeriSign said the deal is its first CALEA compliance implementation with a major cable provider.